The fight over Brett Kavanaugh's nomination to the Supreme Court revealed truths that often stay unspoken in American life. The first is how many of us are touched by sexual violence.  A second is the deep fear that a loss of privilege strikes in the hearts of some. And a third is that they will do anything in their power to protect it.
But the more powerful truth belongs to those who find the courage to speak out, and the decency of those who are willing to hear them. So I am confident that this forms a resilient majority that can ultimately prevail in our nation.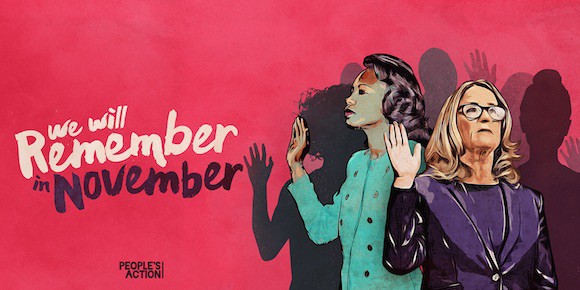 This has been a pitched battle. President Trump, Chuck Grassley and Mitch McConnell are now congratulating themselves - they feel flush with victory. They've played a winning hand, they think - their combination of trillion-dollar tax cuts with a pro-corporate majority on the Supreme Court will box up democracy for a generation and lock in privileges that will last well beyond their last putts at Mar-A-Lago. Or so they think.
But victories can be fleeting, and winning streaks short. So I have one word for Donald, Chuck and Mitch, as they savor their success:
November.
Like many of you, I was so inspired by the quiet courage of Dr. Christine Blasey Ford, and by the courage of those who followed her in coming forward – many for the first time – to share their stories. I was inspired by the thousands of women and men who stepped up, from Maine and West Virginia, from Alaska to Washington, D.C., to show solidarity with survivors.
And I am inspired now because I know that in four weeks, all across the country, these same thousands of women and men will vote. And they will vote their consciences.
The good news is that candidates have come forward who are worthy of their trust, and who offer a brighter vision for our future. Many are women – from Jess King in Lancaster County, Pennsylvania to Ilhan Omar in Minnesota, Laurie Pohutsky in Michigan and Paulette Jordan in Idaho – but there are many men, too: Ben Jealous in Maryland, Jeff Smith in Wisconsin and Beto O'Rourke in Texas.
These are men who know that gender justice goes hand in hand with economic, racial and environmental justice, and that a society that promotes these values will be stronger for every mother, father, son and daughter.
President Trump seems confident that stoking the fears of men will peel them away from the struggle for a more just society, and that they will vote out of fear, not hope. But I've known too many good men to think this will be true. They know that for all Trump's talk of greatness, he's not doing much, if anything, for most of them.
They respect their mothers, wives and daughters. They also know that immigrants, African Americans and women aren't what's wrong with this country. And they know that even bullies eventually run out of others to blame for their unhappiness.
So Donald, Mitch and Chuck, we'll see in you November. And you'd better get ready, because we certainly are.