I can't wait to see you all at the People's Action Convention! Our members, friends and allies from across the country are coming to Washington, D.C. this June 25th through 27th.
This year's theme is "Coming Home: An Organizing Revival." For me, it is truly a homecoming: it's my first Convention since becoming Executive Director of People's Action, and our first in-person gathering since COVID.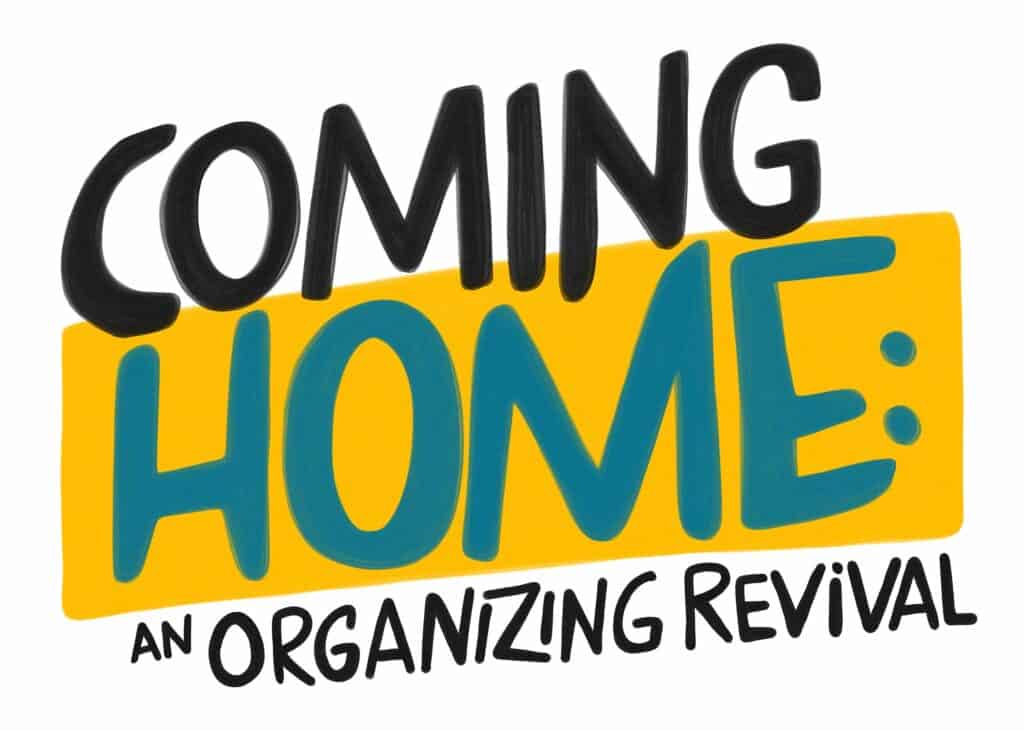 These gatherings - which People's Action has held for more than 50 years - are where we see and feel what we are truly fighting for: each other! These are the moments when we reflect and take action together. They give us a sense of who we are, what unites us, and our collective power.
"That thing I did with you, it changed my life!" I hear this often as I travel around the country meeting new people. I hear it from our directors, many of whom, like me, started out as member-leaders, and who are increasingly people of color. And more often than not, what they describe - the moment that changed their life - happened at a People's Action Convention.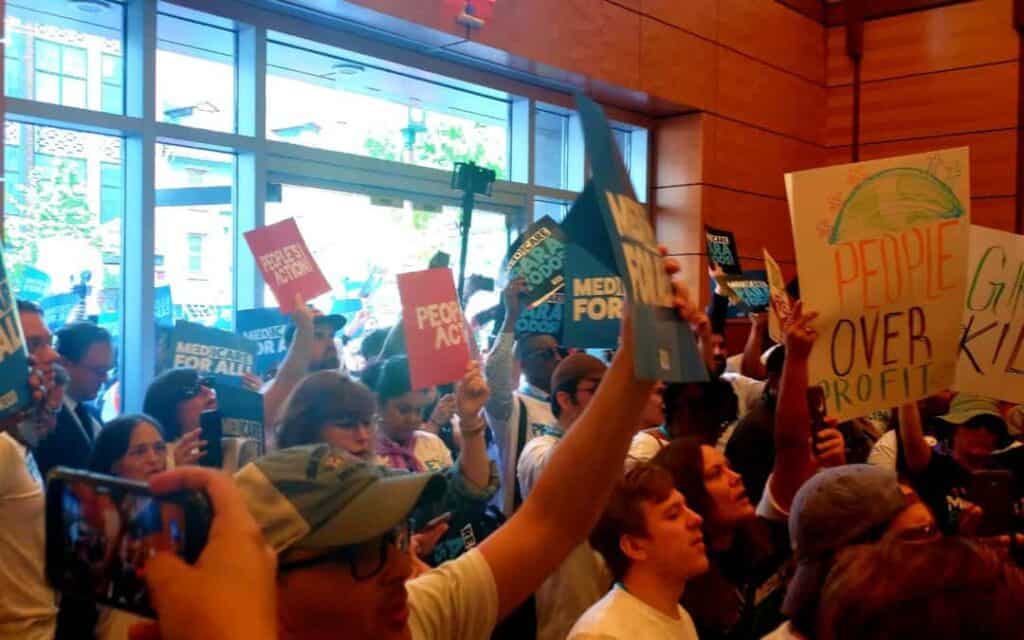 My first People's Action Convention was in 2000. A young mother of three, I had recently joined Sunflower Action in Kansas. I was aware of our national network - I first met Shel Trapp, one of our original founders, when he came to my house in Wichita with Laura Dungan, my mentor at Sunflower - but this was really my first encounter with other members so I had no idea what I was walking into.
Who were these people? I didn't really know. In Kansas, I was deeply involved in the fight to win drivers' licenses for immigrants like myself, so we could drive to work, take our kids to school and not get arrested. At that time, Kansas was at the front of the wave of anti-immigrant hostility which then swept across the nation.
I knew drivers' licenses mattered to those who were directly impacted, but what about other People's Action members? The answer, I discovered at the Convention, was Hell Yes! People from places like Des Moines, Buffalo, Seattle and Milwaukee, from all walks of life, told me, "We're going to go with you, and demand that you get drivers' licenses, because what you say, that's not right!"
And that's exactly what we did. On the last day of the Convention, as we always do, we took to the streets, to demand immigrant rights. We did this again and again in coming years, including in 2003, when we confronted Dan Stein, the director of the anti-immigrant group Federation for American Immigration Reform (FAIR), in his office.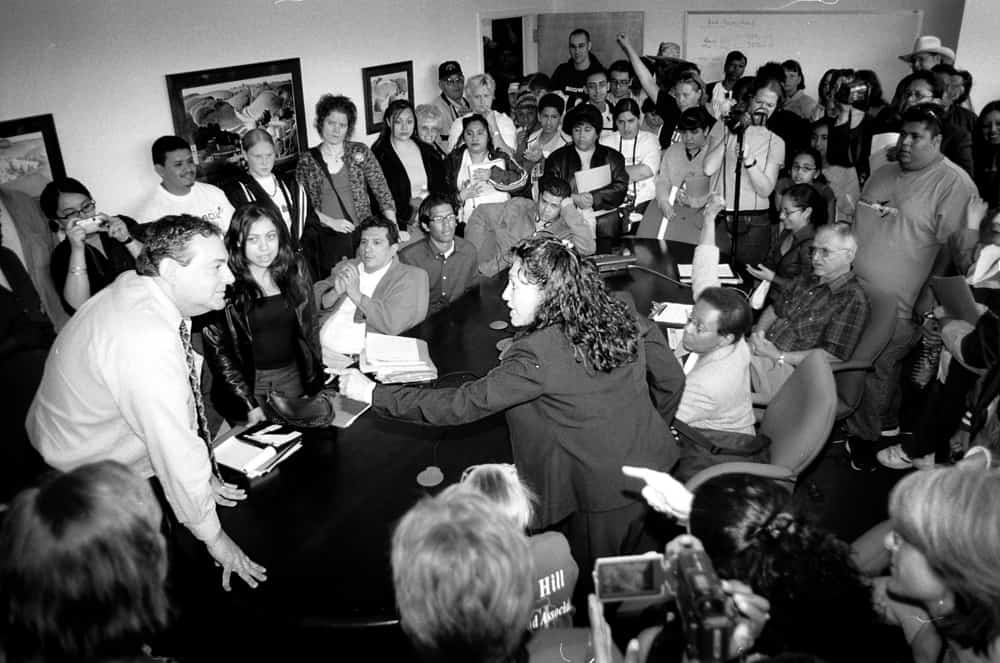 The beauty of a People's Action Convention is that we take action on the issues that matter most to our members. What I learned at my first Convention is that I am not alone: hundreds of people, all across the country, cared enough about what we were experiencing to take risks and stand with us for what is right. "We're not going to leave you alone," they told me. "We're going to walk in there with you and demand that they let you in."
This, to me, is solidarity at its finest, and it's what People's Action is all about. This experience - going from feeling alone and helpless to finding your people and feeling supported by a community is transformative. It's something you remember for the rest of your life:  it changes the way you think about yourself and what we can do when we stand together.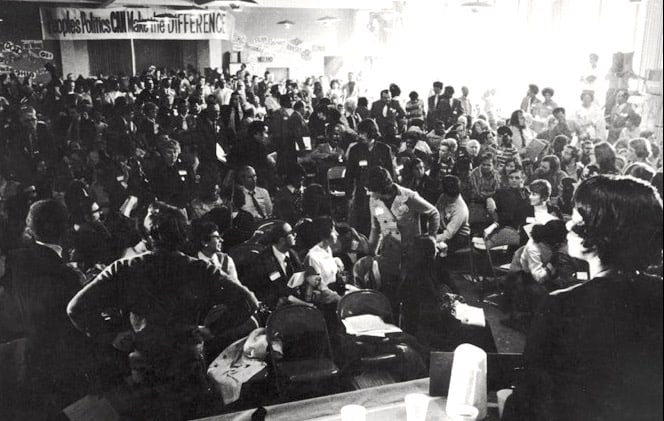 When Gale Cincotta convened our very first Convention in Chicago in 1972, she wasn't thinking it was the "first" of anything. All Gale knew was that the greedy banks who were gutting her neighborhood were doing the same thing all around the country. So she invited everyone she could think of, and then some. 1,600 people showed up, from 388 community groups in 38 states, kicking off a national movement for community reinvestment.
"We have found the enemy, and it's not us!" Gale said, and it's as true now as it was then. Because the greedy and powerful - whether they are big banks and corporations, self-serving politicians, or those who think government exists only to serve the wealthy - still try to divide us with fear. We stood together then, and we stand together now.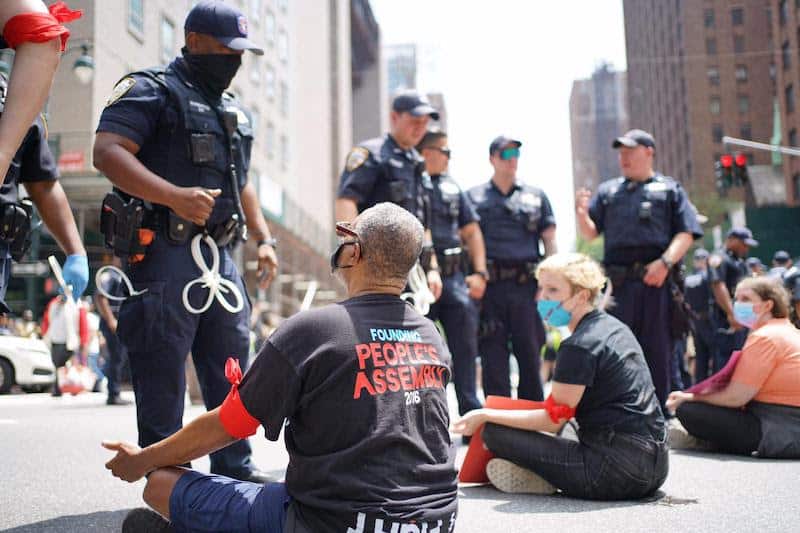 A lot has changed since our first convention in 1972, and since COVID: People's Action has grown in strength, and in the ways we show up in these powerful moments of collective action.
We have worked tirelessly over the last four years to defeat the most dangerous president in U.S. history. Our collective organizing helped pass the MAT Act, which saves lives from overdose, and we organized to win $4 trillion in federal investments for good jobs in a green economy.
I'm excited to welcome some of our newest groups - like VOCAL-KY and Firelands from Washington State - and the many volunteers who've gotten to know us through our deep canvass campaigns to change hearts and minds around divisive issues - as well as to see many new and old friends.
People's Action is building strength and power every day and we know we need it, because the stakes have never been higher. Authoritarianism and white nationalism are on the rise. That's why we're calling for an Organizing Revival, joining with allies across the country to strengthen and share the best practices of community organizing everywhere. You'll hear a lot more about this at Convention, with ways you can get involved.
We need to build a bigger "we," so more people know life is better when we all stand together. There is room for all of us in a more just society, no matter who we are or what we look like. When we stand up to demand what's right, we are strong. That's what People's Action does best, and that's what we'll do at our convention.
See you soon!