They came from communities across the country to Washington, D.C. to share stories, find inspirations, and plan for the future - together.
These are the more than twelve hundred who gathered for "Rise Up!" - the founding convention of People's Action and the People's Action Institute, held this week in Washington, D.C.
They are a truly inspiring group, of every age and background. We'll share many of their stories in coming weeks, and wanted to start by introducing a few of these rising leaders.
People's Action was created through the fusion of five organizations to create a national network of more than a million people in 30 states, all working to address key concerns in their local communities.
What do People's Action members share? A deep, longstanding commitment to social justice, and a shared sense of the urgency to work together at this moment, when our national government wants to undermine many of the goals these activists have been working to achieve for years.
These local leaders don't shy away from a fight. If anything, the chill in the national climate redoubles their commitment to defend hard-won gains in their states and hometowns. Indeed, seventy-two of them committed at Rise Up to run for public office at every level – local, city, state and national – on a shared platform of progressive values.
"If we really want change, we need to be that change - and that's what I'm seeing here!" says Rashida Tyler from Kingston, New York.
Tyler is one of the activists who pledged to run for local political office on the shared platform of progressive principles. For Rashida, civic engagement is more important than any differences of opinion.
"You may have political differences with people, but you get to know them you realize you have more more in common as human beings, and make that work," she says.
The opportunity to meet other activists from across the country will invigorate her own work in Kingston, she adds.
"I have met so many people that are on the ground, out there making those connections that are vitally important to build a movement," Rashida says. "That's what we need in this country, that's what we need for our future - a movement that's going to change our political system in a fundamental way."
For Duane Edwards from Fredericksburg, Virginia, the opportunity to meet other locally engaged activists also fuels his own local commitment.
"Iron sharpens iron," says Edwards. "I'm from the south compared to Michigan and Chicago, or people from California and Texas - they're going through the same things, and you find comfort in that."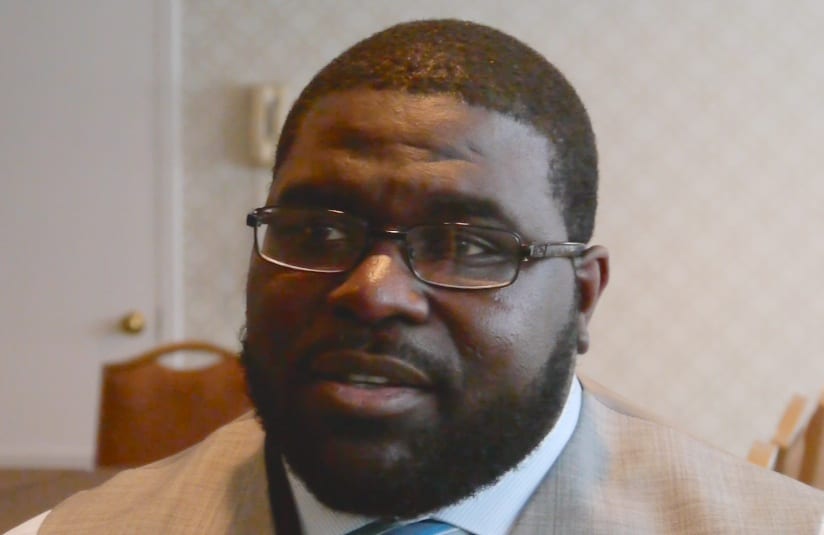 In Fredericksburg, Edwards is an active member of Virginia Organizing, where he works hard to help young people stay out of what he calls the "schools to prison pipeline." Duane is a returning citizen himself, who was once stripped of his voting rights while in prison. He also works as a truck driver and serves as a deacon at Trinity Fellowship International Church.
Petuuche Gilbert takes the long view - a really long view - of the struggle for justice. He's from Acoma Pueblo in New Mexico, an indigenous community which has been continuously occupied for eight hundred years.
"Today we're going through tremendous, fast-culminating climate change, and it's how we as people live with that, and survive it, " says Gilbert. "The reason I come here is to connect with people, to decide how we all want to live as relatives, into the future, in a manner of peaceful coexistence."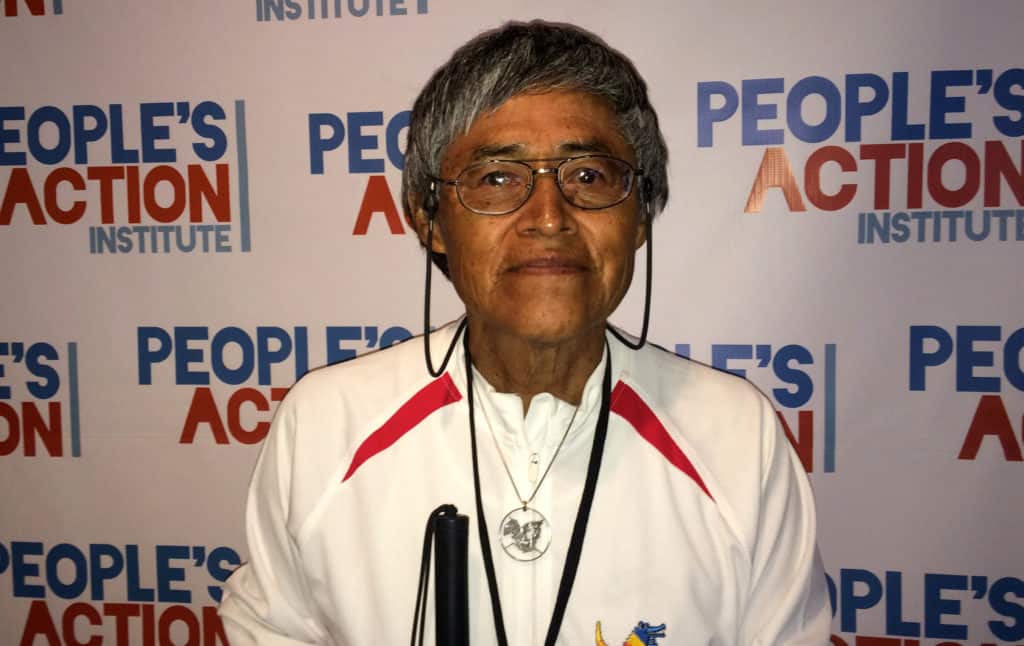 Gilbert is a longtime activist for defending the rights of native peoples, and the protection of their lands and water threatened by uranium mining and other environmentally destructive activities. He's also a founding member of the Native Organizers Alliance, a strategic partner of People's Action, in which he draws on his decades of experience to train the next generation of leaders in Indian Country.
Anna Sekiguchi, a student at the University of Illinois, came to meet with her representative in Congress to advocate for fair access to higher education.
"We'll be lobbying for free and affordable higher education," says Sekiguchi, who has also successfully fought to keep local healthcare facilities for lower income residents from shutting down.
An active member of Illini Progressives and the Illini Democrats, Sekiguchi also took the pledge to run for office in the near future.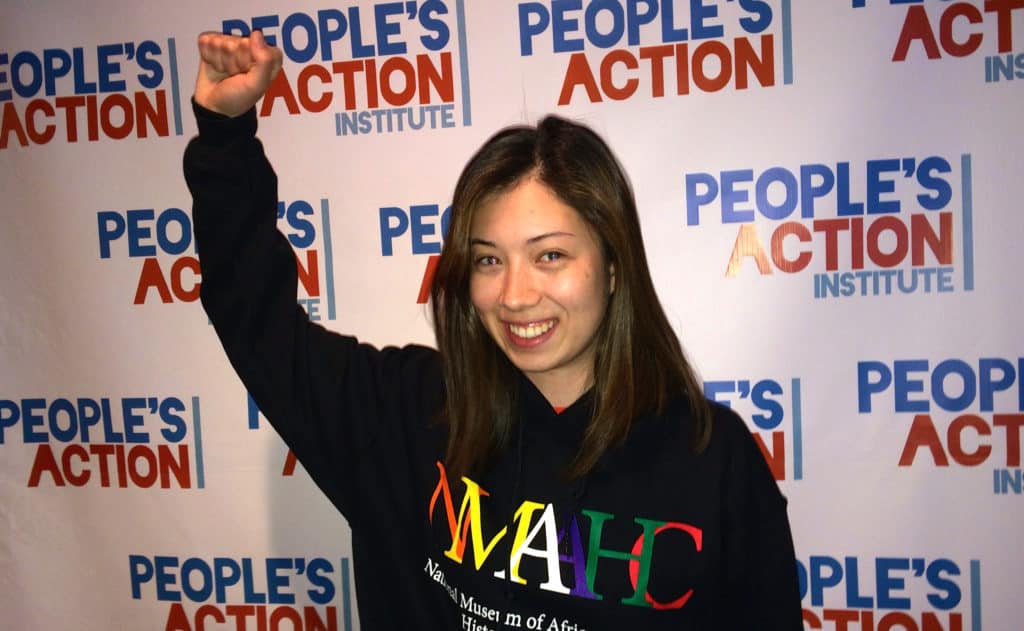 For Carmen Quiñones, Claudia Perez and Zonia Ortiz from Community Voices Heard in New York City, access to housing is a key concern.
Now really is the time to rise up, because things are at a peak - the cuts are really devastating," says Quiñones, who is also the president of the Frederick Douglass Houses in upper Manhattan. "They affect the low-income, senior citizens, and the homeless."
Perez points out how stresses on the social safety net are all interconnected.
"When you take money away from housing, it also affects your health, and your access to education," she says.
Ortiz sums up the fighting spirit that unites all of these activists, and inspires them to continue, with the message she came to deliver to elected officials in Washington.
"I'm here to make sure that they do - and if they don't, to keep rising up!"