Five days out from the midterm elections, here's a final snapshot of People's Action's electoral program. With so much at stake in these elections, People's Action and our member organizations are running our biggest program ever.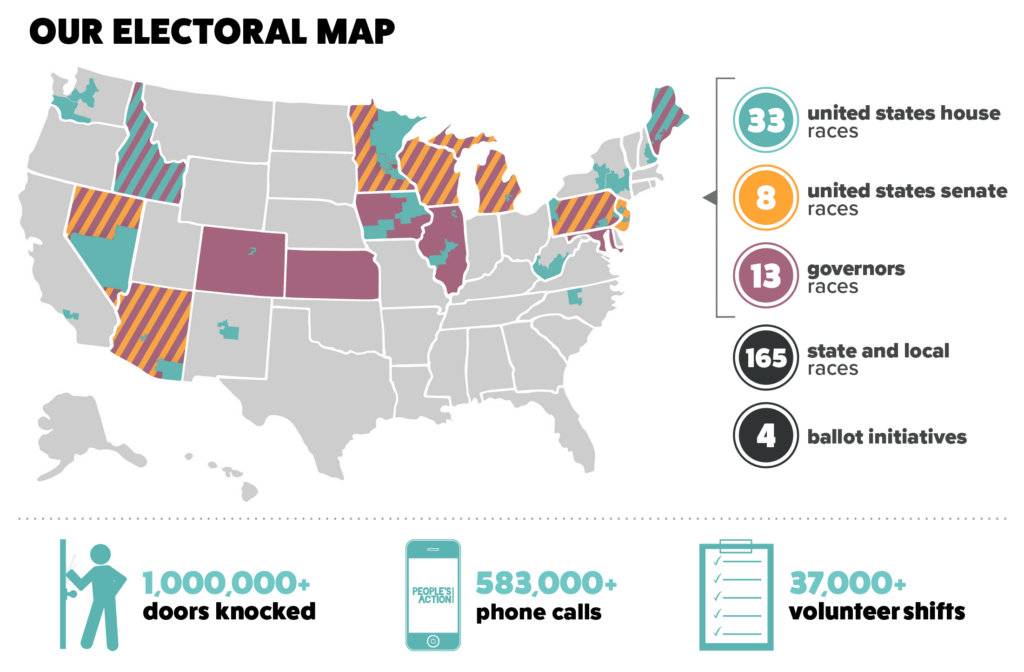 We are so proud to support our endorsed candidates up and down the ballot. Here are three who really inspire us.
ILHAN OMAR — U.S. HOUSE, MINNESOTA'S 5TH DISTRICT
Ilhan is truly the advocate for all people. She has a vision for Minnesota that includes immigrants, women, incarcerated people, among LGBTQIA+ people among others. She began her progressive work at only 14, when she served as an interpreter for Democratic-Farmer-Labor Party meetings. Two decades later, she proves that she is a devoted activist, educator, and legislator.
MANDELA BARNES — LIEUTENANT GOVERNOR, WISCONSIN
Mandela's six-year track record in state politics gives him the experience in winning big reforms, not just winning big elections. He knows change goes way beyond who is elected to office. Mandela's vision is all about opportunity for everyone.
RAQUEL TERAN — ARIZONA STATE HOUSE OF REPRESENTATIVES
Raquel has deep roots in her community, a longtime advocate for immigrants, teachers, workers, and all Arizonans. Raquel is an ardent leader for women's rights and healthcare for all.
Here are three U.S, House races that our member organizations are doubling down on.
KATIE PORTER — CALIFORNIA'S 45TH DISTRICT
Student Action is hustling on college campuses to turn out the student vote for Porter, who was an early endorser of Medicare for All.
ANTHONY BRINDISI — NEW YORK'S 22ND DISTRICT
Citizen Action of New York has had an active program in this district for months and is readying a big GOTV operation in this neck-and-neck contest.
ANDY KIM — NEW JERSEY'S 3RD DISTRICT
New Jersey Citizen Action and New Jersey Organizing Project are mobilizing complementary universes of voters to topple GOP incumbent Tom MacArthur, a key architect of the Obamacare repeal.
These three ballot initiatives are worth watching, too.
Passing Universal Home Care in Maine
Maine People's Alliance is working hard to ensure voters say Yes on Question 1.
Fighting for Climate Justice in Washington State
OneAmerica Votes and WashingtonCAN! are both throwing their weight behind the campaign to pass Initiative 1631.
Capping Loan Shark Interest Rates in Colorado
Colorado People's Action is rallying voters to pass Proposition 111.
We are testing and scaling up our use of tools and creative tactics.
MobilizeAmerica is a great tool to recruit volunteers to knock on doors, make calls, and send texts with organizations and campaigns, both in person and virtually.
Phone2Action triples the impact of digital activists by compounding emails, texts, and tweets to legislators and regulators on issues like stopping Trump and the EPA from repealing the Clean Power Plan and the #StopKavanaugh confirmation fight.
Remember in November is a relational voter contact program grounded in the work of Political Healers. Political Healers center the stories and power of women of color and engage voters, family, and friends to remember what is at stake when we vote. The Remember in November site encourages people to record and share a short video about what they are remembering when they vote, send a digital or printed postcard to friends and family, download a GOTV toolkit, and more.
For any questions on our electoral program, please contact: