When they started their race for the Pennsylvania State House, everyone told Summer Lee, Sara Innamorato and Elizabeth Fiedler they could never win. It was a longshot, people said. They faced enormous odds, and would face enormous money and opposition.
But these three powerful women took those odds, and bet against them. Why? Because they know there are plenty of Pennsylvania voters who are just like them: tired of politics as usual, who want better choices in elections - people  who will fight for real outcomes in their lives.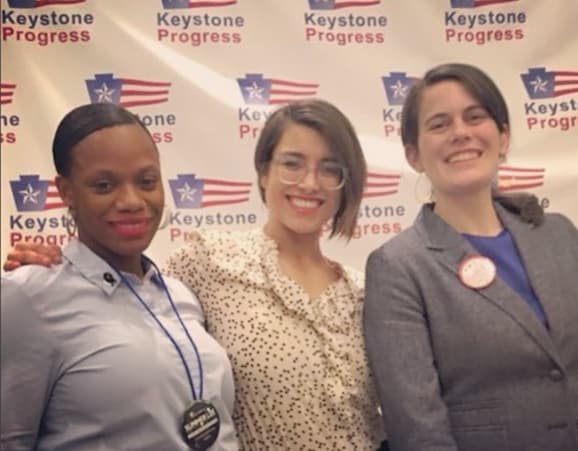 So they ran. And guess what? They won. Not by a little - by a lot. That's why we're so proud of Summer, Sara and Elizabeth, and why they're now poised to take seats in our statehouse this November.
These three have proven there's no political machine that can't be beat - and the old analysis that says you have to be a centrist to win is dead wrong. And they've inspired more people to run.
Upstart Candidates
Summer, Sara and Elizabeth met this February at the Keystone Progress Summit in Harrisburg, a two-day conference our grassroots network hosts every year. It's the largest gathering of progressives in our state.
Summer is a recent graduate of Howard University Law School, Sara is a community organizer and Elizabeth worked as a reporter for the public radio station WHYY in Philadelphia. All are in their thirties, and know all too well the burdens that student debt and access to health care put on young people and families.
They headlined our 'Upstart Candidates' Forum,' where they shared what inspired them to run, what issues they care about, and the challenges they face.
They've had each others' backs ever since.
Sharing Values
We've got their backs, too, because they're our kind of candidates. They share our values, which means not only do they support progressive policies, they run people-centered campaigns: knocking on doors and having real conversations with folks who see politics as an insiders' game.  
Since they, too, are outsiders to Pennsylvania's political machine, they are able to make an effective case and bring in people who are otherwise not likely to vote.
It all starts with the candidates themselves believing they can do it – even when people tell them there's no way they can win, because they're too young, women or of color. Because realizing their own power in the face of these obstacles gets other people to buy in, because they share so much of their experience.
It's a model of insurgency that changes the relationship of power. When people begin to see that they can change their leadership to support and address their real needs, that builds upon itself.
In The Numbers
The numbers tell the story. Summer and Sara, who were running in Pittsburgh districts, both won nearly two-thirds of the vote: twice as much as the incumbents they defeated, Paul and Dom Costa, who are cousins in a dynastically powerful political family.
In South Philadelphia, where Elizabeth ran, she beat her closest opponent by a dozen points. And in all three of their districts, turnout was substantially higher, in the mid-thirties, nearly twice the average across the state.
Behind the numbers are real people, those who had not voted in the last election. Politicians had given up on these voters, and many voters may have given up on politics in return, until Summer, Sara, Elizabeth, or one of their veritable army of volunteers knocked on their door.
So there's something real, and powerful, afoot in Pennsylvania: it's a movement led by candidates who are of and from the population they want to lead. It's very real for them.
And while they want to win their races, they also know it's about more than any individual election, it's about the movement, and that the real outcomes in people's lives matter more than  who gets to sit at some desk.
Voters recognize and resonate with this kind of authenticity in an irrevocable way.
The Tip of the Iceberg
As proud as we are of these three, they're just the start of Pennsylvania's story: of the 35 candidates Keystone Progress supported in Tuesday's primaries, 30 were victorious. These include Lancaster County's Jess King, who will put an end to the boys' clubhouse era of Pennsylvania politics in Washington in November.
And there are two HUNDRED more who ran and won seats on their local state and county Democratic committees, with the backing of Keystone Progress, Reclaim Philadelphia, Neighborhood Networks, Lancaster County Rising and other People's Action affiliates.
That means that – effective immediately - in many counties across Pennsylvania, the Democratic Party now has a progressive majority. So in more places, the strategic and policy framework that propels candidates like Summer, Sara and Elizabeth will be a force within the Democratic Party statewide, when they take their seats in November.
And we'll take the lessons we've learned in these races and apply them to other races this year,  municipal races in 2019, and a whole set of races in 2020.
So congratulations, Summer, Sara and Elizabeth. You inspire us, and many others, to believe that together, we can change the politics of what is possible in Pennsylvania and beyond.