Why would a bunch of protesters show up at the Heritage Foundation to call them out for supporting policies that slash and privatize critical government programs that serve low-income and working-class communities?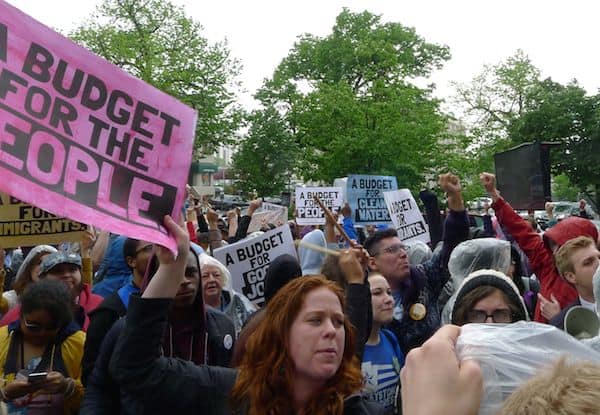 That seems to be the puzzle perplexing Heritage's Director of Policy Services, Rachel Bovard, in her opinion piece in The Hill. Bovard thinks those of us who speak out against Heritage's Budget Blueprint, much of which made its way into President Trump's March budget proposal, lack "intellectual rigor" and "elevated thought."
While I was not part of the recent protests at the Heritage Foundation's offices, there are numerous reasons why, to my mind, Heritage is an appropriate target of criticism.
1. Heritage's budget proposals are harmful to low-income people

Among the programs Heritage targets, they call for gutting food-stamp benefits, eliminating home heating assistance for low-income families, legal aid for the poor, economic development agencies such as the Economic Development Administration and Appalachian Regional Authority, many workforce development and training programs, and the Corporation for National and Community Service, which supports 5 million Americans in national service through AmeriCorps and other programs.

2. Heritage budget proposals seek to roll back popular ACA healthcare expansion

Many low and moderate-income families, including my own, receive health care from the expansion of Medicaid under President Obama. Heritage thinks that the Obamacare funding and incentives should be repealed, and that Americans should once again go without health insurance if they can't afford to pay high premiums.

3. Heritage budget proposals seek to roll back clean energy, clean water and clean air progress

Most Americans understand that climate change is a reality, that clean water is fundamental and that pollution is a crime. The Heritage-Trump budget proposal eliminates virtually all government response to climate action, rolls back progress on clean energy development, eliminates many clean water infrastructure support programs, eliminates all environmental justice programs and decreases funding to hold polluters accountable for the damage they do to public health and the environment.
Volumes could be written about why Heritage's policy positions are cruel, unpopular and wrong. As a journalist, I cover agriculture, conservation, immigration and environmental issues from a rural perspective. As part of my reporting, I regularly speak with one of the groups that was part of the Heritage protest, Iowa Citizens for Community Improvement (Iowa CCI).
Iowa CCI is a grassroots organization that fights for family farmers, fair wages for workers, including immigrants, accountability for industrial livestock polluters and local government that works for people.
Due to their history of working every day for farmers and citizens around Iowa on these issues, Iowa CCI understands that Heritage's budget proposals are fundamentally at odds with the needs of Iowans.
Iowa CCI is part of People's Action, a national network of grassroots organizations working together on issues of corporate accountability, better wages for working people, a more fair economy, embracing immigrants and supporting communities facing economic neglect.
People's Action affiliates like Iowa CCI had gathered in DC to share stories with each other, meet with elected officials, support grassroots candidates as they prepare to run for office, and to speak out against the Heritage/Trump agenda of supporting polluters and the ultra-rich at the expense of the poor and working class.
It apparently surprises Heritage to learn that groups like Iowa CCI and People's Action even exist. Far from being "just another paying gig" - a repeat of the tired "paid protester" frame conservatives like to use whenever critics speak up - grassroots groups are people-powered organizations, dependent upon a mix of contributed citizen energy and time, small donations, and, yes, occasional grants from philanthropists.
People traveled to DC for the People's Action convention, which included protests at the White House and at the Heritage Foundation, on their own dimes, taking time away from their families and jobs for the chance to participate in democracy.
Sure, some of the convention's organizers are paid. That's what community organizers do for a living: they work hard every day to elevate voices neglected by people in power.
Maybe that's something that Heritage and Trump don't understand. Millions of Americans fundamentally disagree with them. We don't believe that cutting taxes for the wealthy is smart policy. That's because we live a very different reality, far from the so-called "intellectual" bubble of Washington think-tanks and lobbyists on the corporate payroll.
I do agree with Bovard that elevated thought and intellectual debate should guide public policy. That's what People's Action, Iowa CCI and millions of Americans like myself believe, too.
That's why the opposition is rising against Trump and Heritage. We know that tax cuts for the super-rich while slashing programs that work for the working-class and the poor are bad ideas. We've been living that experiment since the Reagan years.
If Heritage really wants to have a public debate on the issues, on the facts, and on the "intellectual rigor" of their approach, I say bring it on. Their ideas are not popular outside of their bubble. How many Americans favor selling off our public lands, cutting taxes for billionaires and punishing the poor? There might be a few "intellectuals" out there that support Heritage's agenda, but not many.
This expansion in protest seen all across America right now is not "shapeless protesting for its own sake." Instead, it's an outpouring of disgust over Heritage's "ideas."
Heritage is wrong, and they deserve to be called out for their role in crafting Trump's budget. Yes, America is "woke," and no amount of heckling and trolling from supposedly "smart" people in the ruling class is going to put us back to sleep.
Bryce Oates is a writer who covers rural issues and politics. He has a bachelor's degree from a public university and his kids attend public schools. He also regularly hikes and fishes on public lands, drives on public roads and attends public rallies and protests to protect such things. If he had more money, he would give it to organizations that oppose the Heritage Foundation's ideas.