Rep. Dave Trott's constituents in the Northeastern suburbs of Detroit gathered at his office to ask him about his stance on health care, refugees and other urgent issues. Instead of scheduling a meeting, Trott's staff called the police.
[fve]https://www.youtube.com/watch?v=U2R0i-btvGU[/fve]
The delegation was organized by Michigan People's campaign, an affiliate of People's Action, a national organization fighting for economic and social justice.
Since last weekend dozens of other town hall meetings and constituent forums have been dominated by vocal and angry people wondering where their lawmakers stand on Trump's agenda, in particular regarding plans to dismantle the Affordable Care Act (ACA). Embracing the #ResistanceRecess hashtag, national organizations such as MoveOn.com, Daily Kos, the AFL-CIO and People's Action are helping mobilize grassroots frustration with the direction of the country after just one month of the Trump presidency.
Many Republicans in Congress have concealed or simply refused to hold public town halls and opted to spend their time at home in private fundraisers among loyal supporters. Rep. John Faso (R-N.Y.) was met outside of a recent $1,000-per-ticket fundraiser in Albany with dozens of protesters demanding a public town hall. The protest, organized by People's Action affiliate Citizen Action of New York along with the SEIU 1199 health care workers union, included many first-time protesters.
One homemade sign plastered with paper money read, "Money is the only constituent Faso listens to."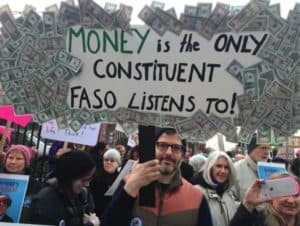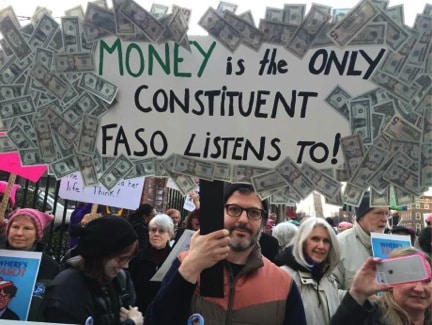 Faced with politicians making themselves scarce, some activists have posted missing persons ads for their lawmakers. In Erie, Pa., more than 200 people attended a town hall meeting organized by Keystone Progress, a People's Action affiliate, but Reps. Mike Kelly and Glenn Thompson were no-shows. Their seats remained empty as their constituents testified about the impact repealing the ACA would have on their families and communities.
Hugh Espy, executive director of Iowa Citizens, and a member of the board of directors of People's Action knows a thing or two about "bird-dogging," the art of challenging politicians to reveal their true views. He famously got presidential candidate Mitt Romney to admit his belief that "corporations are people" during the Iowa State Fair back in 2011.
Recently, Espy has helped teach others about bird-dogging during the recess.
It's not rocket science… It's common sense. What's bothering you? Are other people feeling the same way? Who are they? How do you get them involved? What do you want? And who can give you what you want?
If members of Congress won't answer their constituents' questions about where they stand on repealing the Affordable Care Act or other dangerous policies of the Trump administration, they will surely face the electorate's wrath at the ballot box in 2018.