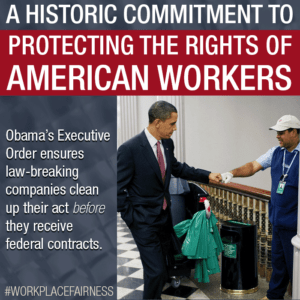 Saying that "taxpayer dollars should not reward corporations that break the law," President Obama on Thursday issued another executive order designed to help low-wage workers.
In February the president issued an order that federal contractors pay their employees $10.10 an hour. In June he issued an order banning federal contractors from lesbian/gay/bisexual/transgender discrimination. This time it's the "Fair Pay and Safe Workplaces Executive Order."
President Obama's executive order cracks down on federal contractors who break hiring, health and safety, and wage laws. It also prohibits employers from requiring mandatory arbitration agreements with employees of federal contractors, in order that workers can get their day in an actual court instead of being forced to appear in front of an arbitrator picked and paid for by the company when there is a dispute involving the Civil Rights Act or related to sexual assault or harassment.
Specifically, the new rules require companies that bid on federal contracts to disclose wage and hour, safety and health, collective bargaining, family and medical leave, and civil rights violations from the prior three years. Federal contractor hiring officers are to take serious violations into account before awarding contracts. These officers will be issued guidelines on whether certain violations "rise to the level of a lack of integrity or business ethics."
The administration says this will improve the "efficiency" of the contracting process because companies with violations in these areas have proven to be poor performers on their contracts. "Because the companies with workplace violations are more likely to encounter performance problems, today's action will also improve the efficiency of federal contracting and result in greater returns on federal tax dollars," according to a statement from the White House.
This will make a difference to a lot of people. There are approximately 24,000 businesses with federal contracts. These contractors employ around 28 million workers. The new rules will phase in as new contracts are awarded, beginning in 2016.
High Cost Of Privatizing
There has been an ongoing campaign of anti-government propaganda claiming that government is inefficient, bureaucratic and expensive for decades. As a result, the federal government has been increasingly privatizing its operations.
Supposedly a "cost-saving" measure, this shifting of public services to private companies has actually been extremely costly for the country, its people and the economy. They way privatization "saves money" for the government is by laying off the decently paid public employees who have benefits. The private company then rehires them (or others) at or near the minimum wage with little or no benefits. As a result there has been a net loss of up to 28 million decently paying jobs, with the formerly public employees forced into poverty.
By forcing millions into poverty, the larger economy suffers as some homeowners are driven into foreclosure; others find they can't afford cars and anything beyond basic needs, so consequently all the businesses they would patronize lose customers. The tax base is eroded as millions of people are moved from decent-paying taxpaying jobs into poverty. Government spending rises as those millions are forced to depend on some form of public assistance.
The executives at the top of the contractor chain are richly rewarded but are among the very group known for avoiding taxes. (And in the case of state and local government contracting, the executives often are not even local, so their rich rewards leave the area.)
President Obama's efforts to at least stop wage theft and other illegal actions are a step in the right direction. Recognizing and explaining how privatization is impoverishing so many of us while greatly enriching a very few of us might lead to further actions to alleviate the problem.
Statements of Support
AFL-CIO President Richard Trumka praised the order:
"From raising wages to workplace protections, President Obama is showing strong leadership where it's needed most. Today's executive order is a common sense measure that will make our contracting system fairer. Preventing tax dollars from being funneled to chronic violators of workers' rights is good for workers, our economy and companies who play by the rules. When Congress shows the same leadership, all workers will be better off."
Paco Fabián, spokesperson for the Good Jobs Nation campaign:
"Based on what we have heard from the Administration, President Obama has issued a far-reaching executive order that places federal contractors on notice. They can no longer break the law without facing consequences. This is yet another step the President is taking to guarantee that tax payer dollars are spent on creating good jobs, and not keep workers in poverty. Of course, the devil is in the details. As the biggest purchaser of goods and services in our economy, how the government decides to implement this rule with ultimately decide whether it has a positive effect on the lives of workers and on our economy."
From a statement by National Employment Law Project (NELP) Executive Director Christine Owens:
"The Fair Pay and Safe Workplaces Executive Order that President Obama signed today is good for workers, good for law-abiding employers, and good for America's taxpayers. Requiring companies to disclose their recent compliance with labor and employment laws and allowing agencies to consider those records in the bid process will better ensure that companies receiving taxpayer-funded contracts actually satisfy our nation's basic wage and workplace standards.
Ohio Senator Sherrod Brown:
"The U.S. government should never use taxpayer dollars to hire contractors with a history of labor violations," Brown said. "If a company wants to be considered for federal contracts, it should disclose prior labor violations. And when the government considers potential contractors, it must emphasize integrity and a history of protecting worker rights. I applaud the President's executive order which will stand up for workers and taxpayers by rewarding only contractors that do the same."
Neera Tanden, president of the Center for American Progress:
"Safe workplaces and fair pay should not be luxuries for America's workforce. Yet today, far too many companies with long track records of violating workplace laws are continuing to receive federal contracts with no strings attached. By demanding that companies clean up their acts and comply with labor laws before they are awarded federal contracts, President Obama is taking a momentous step toward protecting the millions of Americans employed by firms that contract with our government."
Joe Geevarghese, Change to Win's deputy director, (from this MSNBC story):
"Once again, the President is leading by example. Establishing the principle that if you are breaking the law, you don't get to do business with the biggest employer in the country – the federal government," said Joe Geevarghese, Change to Win's deputy director. "Just like the executive order raising the minimum wage had a ripple effect across the economy, we hope that this bold step by the President sends a clear signal to the private sector that you need to do right by your workers."
In the same MSNBC story a Chamber of Congress spokesman jokingly suggested the administration should leave it up to (Republicans in) Congress to act on these matters:
"Congress has already enacted numerous laws covering employment in the workplace," said Chamber of Commerce Senior Vice President Randy Johnson in a statement to msnbc regarding the expected action from the president. "These laws are enforced by a variety of agencies with expertise in enforcing those laws, which are interpreted through thousands of pages of regulations and court decisions. If the president wants to add the penalty of debarment from federal contracts to be determined by procurement officials without expertise in those laws, he needs to go to Congress and get the proper authority."
"Go to Congress and get the proper authority." Right. Because job creators.