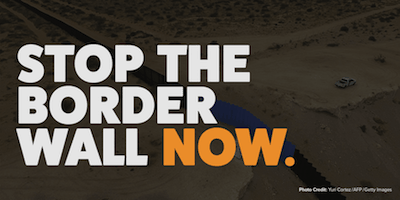 Shutdown May Force Evictions, End To Food Aid
As shutdown drags on, Trump officials make new offer, seek novel ways to cope with its impacts. WaPo: "Trump administration officials began taking extraordinary steps to contain the fallout from the partial federal government shutdown Sunday, as the budget impasse between the president and congressional Democrats showed no signs of nearing a breakthrough. The Department of Housing and Urban Development sent letters to 1,500 landlords Friday as part of a last-minute effort to prevent the eviction of thousands of tenants. A lot of those tenants live in units covered by a HUD program that many agency officials didn't realize had expired on Jan. 1 and that they are now unable to renew.U.S. immigration authorities have resorted to mass releases because they cannot transport and process the families fast enough and so many children are falling ill in government custody. The partial shutdown over wall funding — leaving U.S. border agents working long hours without pay — has only added to the strain. Administration officials are also looking to see what is legally permissible as they determine how to grapple with the 38 million Americans who could lose access to food assistance next month because the Agriculture Department is also caught up in the shutdown. As soon as this week, the agency could begin notifying states that it might not be able to provide the expected levels of financial assistance for food programs."
House Dems Release Bills To Reopen Government
House Democrats release bills to end shutdown. The Hill: "House Appropriations Committee Chairwoman Nita Lowey (D-N.Y.) on Sunday released the text of four bills meant to end a partial government shutdown, now in its third week. The House will first consider an appropriations bill that funds the Department of the Treasury and the IRS, Lowey's office said. Other bills cover departments including Agriculture, Interior, Transportation and Housing and Urban Development. 'While Senate Republicans acting at the behest of President Trump have blocked our bipartisan, comprehensive plan to end the government shutdown, it is urgent that we take steps to reopen parts of the government that most directly affect working families,' Lowey said in a statement. 'These bills, which have already passed the Senate on a 92-6 vote, do exactly that.' Lowey's office said the four bills are virtually identical to bills that passed the Senate overwhelmingly last August, adding that text of the bills was included in H.R. 21, which passed the House last week despite a White House veto threat. Her office also said that the only substantive change between those bills and the four new pieces of legislation is language to ensure that furloughed federal workers receive back pay."
Ocasio-Cortez's Revenue Plan For New Green Deal
Republicans are crying 'extreme' over Rep. Ocasio-Cortez's tax idea. It's actually pretty moderate.. ThinkProgress: "It's not yet a policy proposal, but Rep. Alexandria Ocasio-Cortez (D-NY) is taking to 60 Minutes to float a change to marginal tax rates to help offset the costs of Green New Deal programs. She points to progressive tax rates in the 1960's and '70's as the model for her proposal, which would put the very highest earners in a tax rate of 70 percent for any income above $10 million. President Ronald Reagan slashed tax rates for the wealth ih the 1980s, and in the decades that followed, median income-earners saw their wealth stagnate, while the highest earners pooled a gargantuan share of the country's wealth. Currently, 90 percent of America's wealth is concentrated in just 160,000 households. A marginal tax rate of 70 percent, as Ocasio-Cortez says, would impact a small number of ultra-high earners — not all taxpayers currently in the highest brackets. Just 16,000 Americans earn $10 million or more, as of 2016. A rate of 70 percent would nearly double the current tax rate for this high-earners."
IN County Confronts EPA On Cancer Cluster
A Trump county confronts the Administration amid a rash of child cancers. NYT: "The children fell ill, one by one, with cancers that few families in this suburban Indianapolis community had ever heard of. An avid swimmer struck down by glioblastoma, which grew a tumor in her brain. Four children with Ewing's sarcoma, a rare bone cancer. Fifteen children with acute lymphocytic leukemia, including three cases diagnosed in the past year. At first, families put the illnesses down to misfortune. But as cases mounted, parents started to ask: Could it be something in the air or water? Their questions led them to an old industrial site in Franklin, the Johnson County seat, that the federal government had ordered cleaned up decades ago. Recent tests have identified a carcinogenic plume spreading underground, releasing vapors into homes. Now, families in a county that voted overwhelmingly for President Trump are making demands of his administration that collide directly with one of his main agendas: the rolling back of health and environmental regulations."
1.4m Floridians Will Regain Voting Rights
'A joyous day' ahead as 1.4 million Florida ex-felons have voting rights restored. WaPo: "One of the largest enfranchisements of U.S. citizens in the past century begins Tuesday in Florida, and many of the more than 1.4 million ex-felons set to regain their voting rights here are treating the moment as a celebration. In Tampa, one group is renting buses to register en masse at the county elections office. Others will be live-streaming on Facebook as they march in. Demetrius Jifunza, convicted as a teen of armed robbery, is now a father and pastor who wants to make his daughters proud. 'It'll be a joyous day,' Jifunza said of the trip to the Sarasota County Supervisor of Elections office, a journey made possible when voters in November overturned Florida's 1868 ban blocking residents with felony convictions from automatically having their voting rights restored once they served their sentences. In the run-up to Tuesday, the organizations and volunteers who worked for the past decade to pass the amendment to the state constitution have been ramping up their efforts to encourage ex-felons to quickly follow through. There's a toll-free number, 877-MY-VOTE-0, and a website with tips. 'We're kicking this into a higher gear now,' said Neil Volz, political director of the bipartisan Florida Rights Restoration Coalition. Pro-bono attorneys will be on call in case problems crop up in the coming weeks."