"It was years ago - can't she just let it go? Let the man be!" That's what a West Virginian shouted to me before he slammed his phone down. I was an hour into a phone bank, calling voters in the state, asking them to contact Senator Joe Manchin and tell him to vote NO on Brett Kavanaugh's nomination to the Supreme Court.
I was one of hundreds of organizers and members from People's Action groups across the country, including the Maine People's Alliance, West Virginia Citizen Action and Hometown Action in Alabama, who have stepped up to demand their representatives stop Kavanaugh from ascending to the Supreme Court, where he can cast deciding votes against women, workers and voters for decades to come.
During the daylong phone bank, I heard many reasons to oppose Kavanaugh's nomination.  I talked to a 72-year-old cancer survivor named Betty who called Senator Manchin because she doesn't want to lose her healthcare, if Brett Kavanaugh rules that protecting people with pre-existing conditions is unconstitutional.  
I talked to 26-year-old Ann, who is speaking out for the women who will die without access to safe and legal abortion. I talked to Travis, a public teacher who doesn't want to lose the right to bargain with his union.  I heard many stories, but that angry man's comment stuck with me.
It stuck with me because I'd heard it before.  I remember my mom throwing something at the TV news as a Senate panel of old white men attacked and derided Anita Hill in 1991.  I heard it straight from the mouths of commentators and pundits and clergy and classmates.
I heard it when I was a scared teenager who finally worked up the courage to share what happened to me.  
The message from all of these men was loud and clear. Any damage done to me wasn't worth remembering, let alone messing up my attacker's life.
I can tell you – as can every survivor of sexual assault – you can't simply choose to forget a sexual assault.  The pain, the fear, the trauma and the shame seep into your core and shadow your life. Every time you are met with disbelief, dismissal or outright attack, those memories cut a little deeper.  One in six women will experience rape or attempted rape in her lifetime. Every woman or femme person I know has a story. Many men I know have stories, too.
The Stories We Remember
The stories we remember as a society – and those we choose to forget - do matter.  What we hold in our collective public memory defines the terms of the conversation.  
It's no accident that Confederate memorials popped up in front of courthouses all across the South during Reconstruction, as warnings to any Black citizen who might demand their right to vote.  They were public reminders from white supremacists that any fight for freedom would be violently answered. There was violence - for decades - but Black voters persisted, and prevailed.
It's no accident that watching a panel of white men attack and publicly demean Anita Hill and doubt her experiences motivated more women than ever to run for office. It's no accident that more women and people of color are running this year, either.
That's why I'm working to build a movement of political healers. The Political Healers Project is an idea birthed by Arique Aguilar and the Womxn of Color table at People's Action affiliate Take Action Minnesota.  The project is grounded in the way in which womxn of color have, because of structural racism and patriarchy, learned to use healing as a tool for political change in a world organized against their survival.
This movement was created as a way to recognize women's leadership through healing and create spaces for this creative approach to thrive in our progressive movement. Political Healers use ritual to change conversations and reach people in a new way - beyond politics and tactics.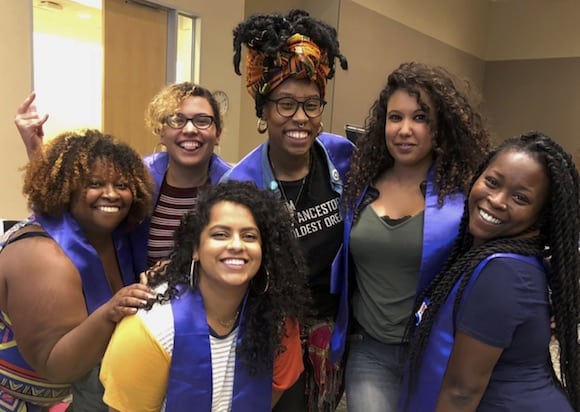 Political Healers, decked out in purple stoles are changing the conversation in Minnesota on everything from elections to criminal justice reform to clean water, and have helped Ilhan Omar's bid to become the first Somali-American woman in Congress.  They are building joyful, fierce, and powerful change. Now, People's Action is helping spread this powerful new movement across the nation.
Telling Our Story
My voice catches in my throat when I think about telling my story in public. But knowing that there are other Political Healers out there helps me speak.  I know the courage it takes for Dr. Blasey Ford and Debbie Ramirez to speak. I know that I, and millions like me, have absolutely no intention of letting them speak alone.  
I will use my voice to share all of the stories that have been silence because they are inconvenient or might spoil someone's ambitions. I speak so we can face the ways racism, poverty and patriarchy undermine our communities and decide whose voices matter and who is considered trustworthy.  
I will swallow my fear and speak so we can have the chance to build something new, together.
We are all threatened if we stay silent, and allow corporations and right-wing extremists to put Brett Kavanaugh on the Supreme Court.  We are all weakened when courageous survivors are ignored, and a predator and proven liar gets a lifetime appointment to the highest court in the land, as if it were his birthright.
We are all at risk, but once again, women, particularly women of color, are on the front line. We are at risk, but we are not afraid.
Today, I'll join thousands of survivors in the streets to make sure our Senators know we remember.  We remember how Anita Hill was treated. We remember the families ripped apart at the border. We remember the thousands dead in Puerto Rico.  We remember the Black and Brown people killed by police. We remember the houses standing empty ten years after Wall Street stole them with racist subprime mortgages.  
And we'll remember the names of every Senator and Member of Congress who was willing to help right-wing extremists seize control of the highest court in the land.  This fall, I'm joining Political Healers across the country as we gather in our communities to register voters, to knock doors and to celebrate what we've overcome and what we can build together.  
This November, we will remember, we will vote, and we will win.