As the confirmation vote for Supreme Court nominee Judge Brett Kavanaugh nears, Senator Susan Collins' approval rating has fallen to a new low of 35 percent, according to a recent poll.
Comments from some of the over 500 attendees at a Unite for Justice rally in Portland reflect Mainers' growing disillusionment with the senator, who is sometimes hailed as a "moderate" capable of challenging Republican leadership, and her noncommittal statements about whether or not she will vote for Kavanaugh.
"Maine has a strong tradition of people who are centrist and that all Mainers can trust," said Portland resident Emily Wall.  "I think Susan Collins has been betraying that [trust] for a couple of years now, and if she votes to confirm Kavanaugh, that will be the last straw."
Organized by Maine People's Alliance, a People's Action affiliate, with Mainers for Accountable Leadership, NARAL Pro-Choice America, and the Planned Parenthood Maine Action Fund, the Portland rally was one of more than 100 planned for the national day of action, and was attended by Mainers from across the state who called on Senator Susan Collins to stand with them and vote to not confirm Kavanaugh, whose record on a number of issues has many concerned.
South Portland resident Bill Matthews remarked that a vote for Kavanaugh, in his mind, would forever define Collins' legacy, especially on women's rights.
"Susan Collins has been wishy-washy so often that it will cement her legacy as a woman who doesn't stand up for the women of Maine and the country," he said. "Kavanaugh's record is sketchy on not just women's rights, but so many other issues, such as disability rights and whether a president can be held accountable for his crimes."
The concern about Kavanaugh's record is not exclusive to Democrats. Ann Elissa, an Independent from South Portland who attended the rally with other members of the First Congregational Church, United Church of Christ, said she wants Collins "to vote for someone who has everyone's rights at the forefront" of their mind. "I don't believe a Trump nominee can do that," she said.
When asked about Collins' legacy, a Scarborough resident named Bonnie was blunt in her assessment. "Her legacy is in the toilet," she said. "Susan Collins does what's best for Susan Collins."
While relating personal stories about the importance of a woman's right to choose, affordable health care, and racial justice, speakers at the rally also emphasized how Collins' vote would make or break her legacy as senator.
Speaker Alicia Barnes, an Iraq War veteran, a member of the LGBTQ+ community, and an advocate for Common Defense, became an activist during the repeal of the military's "Don't Ask, Don't Tell" policy in 2010.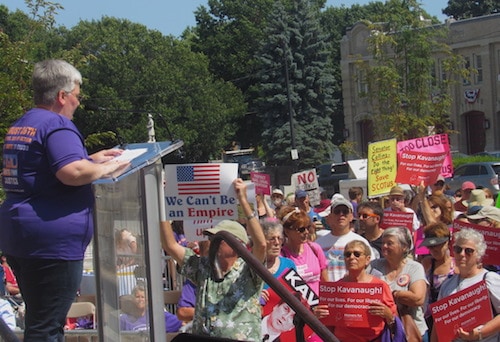 In June 2011, she was asked to attend an Equality Maine reception to honor Collins for her work drafting and passing a repeal of the policy. Barnes presented Collins with one of her ship's coins from the USS Kearsarge as a token of gratitude to the senator.
"I want her to do the same thing now and have our backs," Barnes said, standing in front of a purple banner emblazoned with #StopKavanaugh. "How Senator Collins votes on Kavanaugh's appointment will be her legacy. And if she chooses to vote 'yes' for Kavanaugh, I suspect there are many Mainers who will help raise money and campaign for the person that decides to run against her in 2020."
On the same day, at a second Unite for Justice rally organized by the Maine Common Good Coalition, nearly 100 people also gathered outside of Collins' Bangor office to protest Kavanaugh's nomination. In activism outside of Maine, Ady Barkan, a disabled healthcare activist dying from ALS, has already raised more than $100,000 for Collins' potential opponent in 2020 as a part of his "Be A Hero" campaign.