Maybe from now on politicians will think twice before crossing public school teachers. That's likely what defeated candidates in at least one state, Oklahoma, are thinking after the results of this year's primary and runoff elections.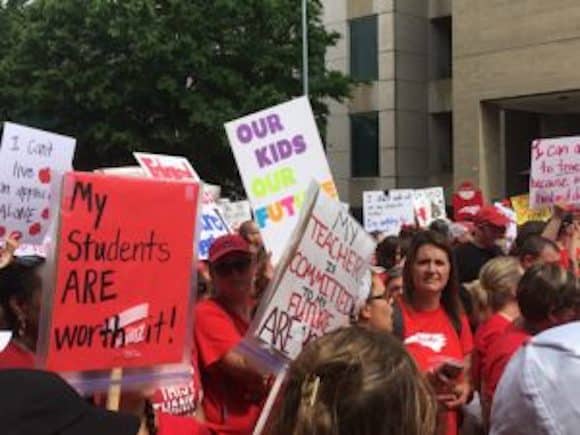 After widespread statewide teacher walkouts earlier this year, in which teachers protested poor pay and inadequate school funding, educators running for office and advocates for public schools are making their voices heard in the Sooner State and elsewhere.
Of the 29 Oklahoma state legislators who voted against the teacher pay bill, 18 aren't returning, CNN reports. Only three won their primaries, a few decided not to run or were term-limited out, and six didn't have to run. One of the three now has to face an opponent in the November general election who is married to a retired schoolteacher and has the endorsement of the hometown newspaper, particularly because of his stand on education issues.
Oklahoma is not alone. This spring's teacher uprisings and widespread public discontent with education policy continue to affect elections across the nation and push education issues to the top of contests for governor on down.
Of the 158 current teachers running for office this year, according to Education Week, 95 are advancing to the November general elections in their states, and eight are in upcoming primaries. This doesn't count the scores of other educators – principals, assistant principals, coaches, counselors, and other school personnel – competing in elections across the country.
There's a good reason teachers and their issues are influencing election outcomes: The public is overwhelmingly on their side. According to the nation's most respected and longest running survey of public attitudes about public schools, "Two-thirds of Americans say teachers are underpaid, and an overwhelming 78 percent of public school parents say they would support teachers in their community if they went on strike for more pay."
The survey, the 50th annual PDK Poll of the Public's Attitudes Toward the Public Schools, found 70 percent of Americans give their local schools a grade of A or B grade, and 78 percent, a new high, would rather fix public schools than find an alternative to the existing system.
Lawmakers in both parties who've made it a pastime to dis public schools: Take heed.
In Oklahoma, the teacher walkouts propelled teacher pay raises and increased school funding to the top issue in every statewide and legislative race.
In Arizona, where teacher walkouts in April also roiled the state, more than a dozen educators are running for office, according to NPR, from the top of the ticket on down, including university professor David Garcia, who won the Democratic party primary contest for governor.
Education will be a top issue in Arizona's general election in November because in addition to educator candidates stirring the pot, there are ballot amendments to boost education spending by taxing the wealthiest individuals in the state and to stop the expansion of school vouchers.
Educators and education issues have become particularly influential in the red states that experienced the teacher walkouts, including West Virginia and Kentucky, reports Zaid Jilani for The Intercept Jilani notes the defeat of the Kentucky Republican House Majority Leader by R. Travis Brenda, a math teacher, and the takedown of incumbent lawmakers in West Virginia.
"In all, a dozen teachers won Democratic and Republican primaries in Kentucky this year," Jilani finds.
But educator candidates and education issues have become consequential in states that didn't experience labor actions too.
"Thirteen educators will be on the ballot in Minnesota this November," according to the National Education Association.
In Wisconsin, State Superintendent of Public Instruction Tony Evers will run against incumbent governor Scott Walker by challenging him, to a great degree, on, his atrocious education track record. Polls show the race is a dead heart, and education is the number two issue for voters.
in Connecticut, a former National Teacher of the Year, Jahana Hayes, won the Democratic nomination for Congress, even after she was told she had "no chance," and she lost the party's endorsement.
Education has become a "key issue" in the race for governor in New Mexico, Politico reports, where "poor education outcomes, low teacher pay, high unemployment rates, and an active education funding lawsuit" have put education in the spotlight.
In Florida, Andrew Gillum's improbable win in the Democratic party's governor party was likely propelled, in part, by education issues, including his bold stance on charter schools – calling them out for "a record of waste and unaccountability" – and his courageous proposition to tax corporations and the wealthy to invest a billion dollars in public schools and teacher pay.
The school funding issue has become particularly contentious not only between the party's but within. School funding is "one of the most divisive issues for states in this year's midterm elections," says Education Week, citing nine states with education funding measures on the ballot, and governor's races – in Kansas, Pennsylvania, and elsewhere – where questions of how much or whether to fund schools are generating political heat.
"Republicans, who control most state legislatures, are at odds with each other over whether to continue touting tax cuts," the EdWeek reporter explains. "And embattled Democrats are divided over what strategies will realistically bail out public schools."
"Candidates who are focused on education... are winning primaries," argues former Delaware Governor Jack Markell in a recent op-ed. A review of the record thus far proves him right, and politicians who ignore the concerns of educators run at their own risk.