There's a phrase we use here in Iowa to say how people should treat one another: "Iowa Nice." We think of ourselves as kind, generous, family friendly and closely-knit, and with a knack for finding common-sense solutions together.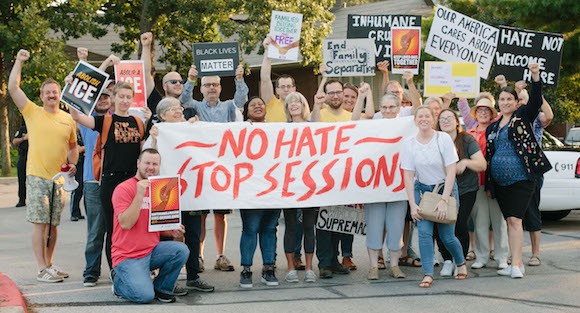 But "Iowa Nice" takes on a different ring in the Trump-Sessions era, when forced family separations and mass arrests of immigrants in small towns like the one where I grew up, Mount Pleasant, in southeast Iowa, are on the rise.
Mount Pleasant, population 8,539, is about as Iowa as you get – it's surrounded by soybeans and corn, with a handful of factories. One of these, Midwest Precast Concrete (MPC), is where they used to make the yellow Bluebird school buses. On May 9, ICE raided the plant and took away 32 workers – from Mexico, Guatemala and elsewhere in Central America.
Iowans see families ripped apart like this, and it opens their eyes. They say, "Oh, so that's what 'zero tolerance' really means. But how can we have our government orphaning children? Those dads who got taken away - my kid goes to school with his kids."
People don't tend to think of the human or community consequences of "zero tolerance" until they see it happening around them. When they see how it affects their neighbors, they think, "That's not reflective of my values. That's not 'Iowa Nice.'" And that's when they start to ask questions.
That's why I joined others in Des Moines to confront Attorney General Jeff Sessions and say, "not in our name, not in our state." If there's going to be any zero tolerance policy in Iowa, it should be a zero tolerance for hate.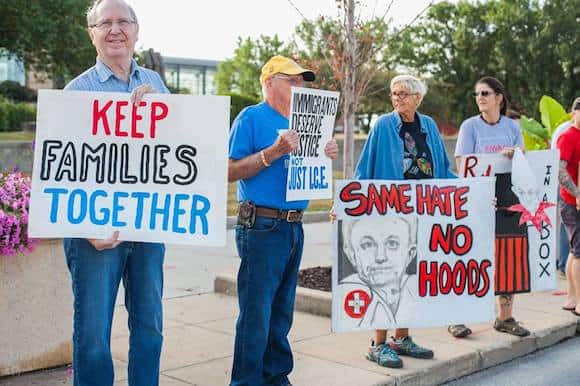 Sessions came to Des Moines to address the judicial conference of the 8th U.S. Circuit Court of Appeals. That's ironic, because as Attorney General he constantly undermines the independence of courts, and has even replaced immigration judges he feels don't sufficiently share his hard-line views, or who don't fast-track deportations.
His first stop in Iowa was for breakfast with Rotary Club members at the Wakonda Country Club. So I joined other members of Iowa CCI, a People's Action affiliate, to give him a surprise welcome.
"No hate in our state!," we shouted. That's me, 8 ½ months pregnant, standing all the way to the right. I'm wearing the same blazer I proudly wore when the Rotary International sent me to Ecuador as a youth ambassador after high school.
Rotary Values
The Rotary and Rotarians embody many of the same values Iowans hold dear. While it's active in small towns across America, it's also an international organization. Their handbook says we should all work for "the dignity of all people and the respect of the consequent human rights of the individual." Rotary values are part of what has inspired me to dedicate myself to working for immigrant rights in Iowa for the past twelve years.
But at the Wakonda Club, it was a different story. One Rotarian flatly denied the horrible stories he'd heard on the news about family separations were true; he simply didn't believe them. Another took issue with the way we chose to speak out – saying it was "not nice." I tried to explain we're far from living in normal times.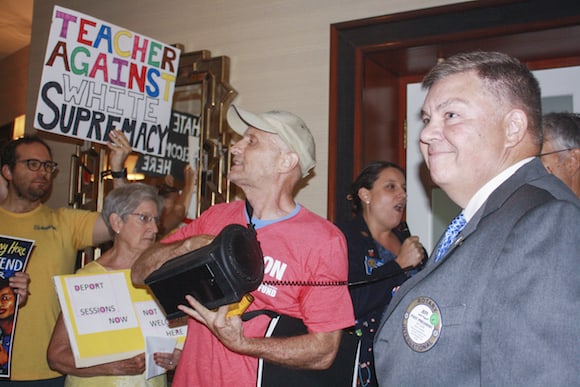 ICE arrests in Des Moines, and all across the Great Plains, are way up: they increased 67 percent in 2017. Agents have taken to picking up immigrants when they stop for gas or coffee on their way to work, or when they go outside in the morning to warm up their cars. This winter, one Des Moines woman went outside to check on her husband, only to find his keys in the ignition, the engine running: but her husband was gone, detained by ICE.
Iowa is also now home to immigrant parents who were separated from their children under the "zero tolerance" policy, but were reunited after a tidal wave of protests and a federal court ruling forced the Department of Justice to roll back this inhumane practice.
I recently met one dad from Honduras outside the Federal Building in Des Moines. I had come to accompany him to his immigration hearing: he broke down as he described his six weeks of separation from his seven-year-old daughter. While he was in custody, ICE agents lied to him, saying she'd already been deported, to try and get him to agree to be deported himself.
At the Iowa Events Center, more than a hundred of us gathered to denounce Jeff Sessions' cruel treatment not only of immigrants, but also of other groups – victims of domestic violence, transgender men and women, gays and lesbians, his contempt for voting rights, and his racist war on drugs. Sessions says he wants to enforce the rule of law, but his actions say he want to undermine it.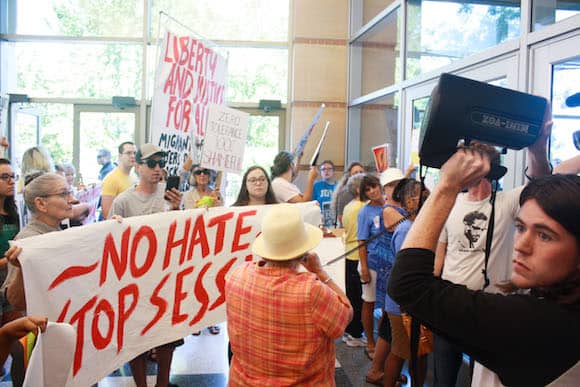 It's time for all of us to demand that Jeff Sessions resign. Iowa Senator Chuck Grassley, who chairs the Senate Judiciary Committee, needs to step up and demand this, too. If he doesn't, he's not representing the views of his constituents, and if he allows these kinds of discriminatory practices to continue, he's complicit.
It's also time for Iowans to own up to their own responsibility for the chilling effect of Trump-Sessions policies. In 2016, Iowa swung hard for Donald Trump, who holds the ultimate responsibility for the climate of terror and fear his Attorney General seems intent on spreading across the country.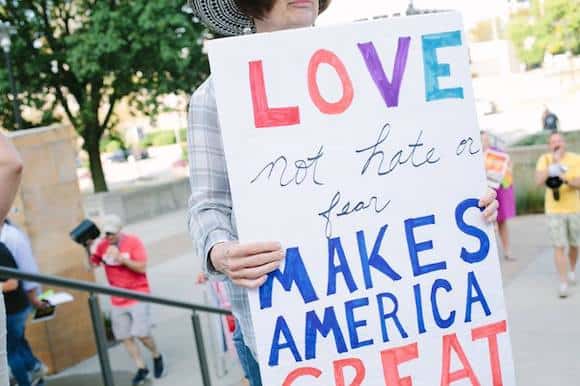 American politicians have long used the fear of immigration to win elections: they know it's very easy to instill fear of others, which keeps us from understanding that we're all victims of a larger oppression that keeps poor people poor and strips workers of their rights.
It might not be "Iowa Nice" to say so, but it's true: it's up to us to turn back this tide of hatred and fear, while we still can.