As a ten-year U.S. Army combat veteran, I've felt my share of aches and pains following my service to my country. And I know firsthand how the Veterans Administration uniquely cares for returning war-fighters.
That's why I'm alarmed by the talk about privatizing VA healthcare, and I want to explain how this would be harmful to veterans like me.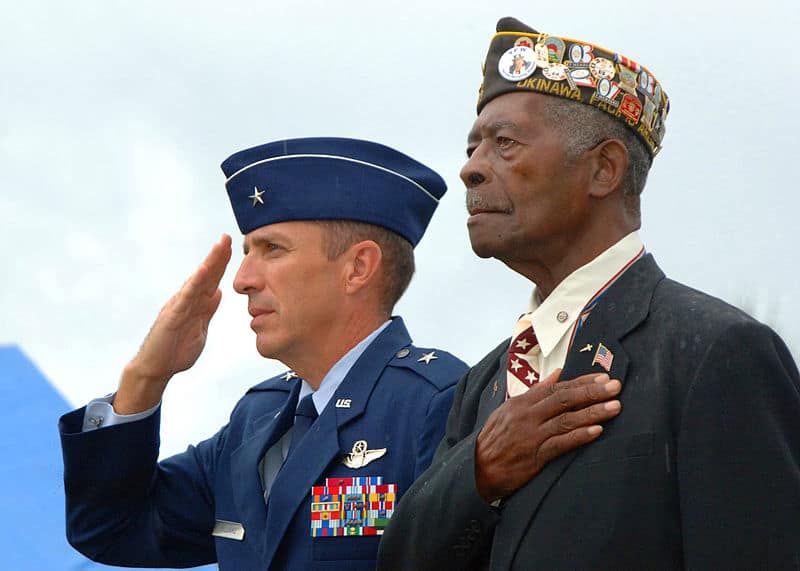 Why the VA Matters
The VA provides care to over 9 million Veterans at 1,240 health care facilities, including 170 VA Medical Centers and 1,061 outpatient clinics. Its roots stretch back to Abraham Lincoln's call to care for those who have "borne the battle," and it has been offering community care to veterans since World War II.
As the VA has grown, it has tailored itself to meet the challenges faced by veterans with any type of complications caused by combat. The history of the VA shows that they understand the needs of veterans.
In my case, I've faced breathing complications caused by my service in Desert Shield/Desert Storm, when Saddam's retreating troops set fire to Kuwaiti oil fields, filling the air with toxic fumes.
When I go to a VA emergency room, I know they have access to my full medical records and history of care, and they have experience serving other vets who came home with asthma and chronic obstructive pulmonary disease (COPD) after their service.
I wouldn't go to a dentist for an eye problem, or to an optometrist when my tooth hurts. In the same way, I would never send a veteran to a civilian facility to treat the conditions he faced in combat. It's that simple, and that's why the VA matters.
Experience Makes the Difference
With over six decades of experience, the VA is uniquely able to care for the returning warfighter in a holistic manner. According to the RAND Corporation,  only 20 percent of New York–licensed health care professionals reported routinely screening their patients for a military or veteran affiliation, with significant differences across provider types and by region.
As a result, many civilian providers miss this opportunity to begin a conversation about how having a military history and background might have contributed to their veteran patients' current medical conditions. Providers also miss the chance to to understand how military culture could shape veterans' preferences and attitudes about treatment.
In my experience, every visit to the VA starts with a conversation: they listen first, and they know where I'm coming from. To me, this is the VA's core competence: they care, and they listen, to veterans first. Then we have a dialogue about diagnosis and treatment.
The Push to Privatize
The ouster last month of Dr. David Shulkin, who says he was forced from the helm of the Department of Veterans Affairs because he refused to privatize the VA, set off alarm bells amongst veterans.
Those who want to take tax dollars away from the VA to put them into private hands claim this would make veterans' care more efficient, and offer them more "choice." But a 2016 study by the University of Buffalo indicates the process of training civilians to treat veterans would not only be costly, it would impede and delay delivery of care - something that has been isolated and magnified as a primary reason for the push to privatization.
I've experienced healthcare in VA facilities across the country. In every instance, I've been treated with the utmost courtesy, respect, and compassion. The care given was explained completely, and was appropriate to the condition being treated. Whether physiological or mental health treatment, I felt that I was always being taken care of by my VA providers.
What It Takes to Lead the VA
The VA issued a press release in early April to allay privatization fears. And President Trump's nominee to lead the agency – his personal physician, Dr. Ronny Jackson - has privately asserted to Senators that he does not intend to privatize.
Dr. Jackson seems like a good guy and is an outstanding combat surgeon, but he's never led an organization of more than twenty people. He's uniquely unqualified to lead the VA, which is the second-largest agency in the Federal government, responsible for delivering care to millions.
To my mind, an ideal VA administrator would recognize and support what's working within the system and continue to support those successes, while acknowledging the failures of individual providers and facilities, and directing resources to solve these problems.
This can only be done by someone deep knowledge and experience if the VA's network and personnel. That's not Dr. Jackson.
No system is perfect, but veterans trust the VA for a reason: it knows us, understands our needs, and offers us care in ways no one else can.
So we call on President Trump and our Congress to do the right thing, and protect the VA for the sake of veterans, who have been the first to answer our nation's call to service.