Eureka!
I truly believe that talking with neighbors makes real change happen. Why? Because the only way we can reach deep into our society to change racism, sexism, and economic injustice is to awaken ordinary people to the power of their voices and votes.
But the reality is, most people are afraid of talking to strangers – whether they're knocking on, or answering, the door. So I want to pull back the curtain and explain my enthusiasm, and why I think these conversations matter.
I'm an organizer - for ONE Northside in Chicago, which brings together a hundred community groups in some of our city's most diverse neighborhoods - neighborhoods which are rapidly gentrifying. The future of our neighborhoods depends on our ability to reach deep, engage new groups of voters, build relationships across our differences, and realize the power we have when we act together.
Going Deep
Organizers call going door-to-door, or making phone calls not related to a campaign or request, a "deep canvass." That's a wonky way of saying 'get to know your neighbors.' It's never a one-way conversation: it's about carefully listening to folks who often feel left out in our society. It's about letting someone you've never met feel like they can share their feelings and experiences with a stranger. If it's real, both sides feel vulnerable.
In essence, each conversation is the start of a new relationship. Not just with a person, but with the community and with the nation. A canvass volunteer offers someone they've never met an opportunity to relate challenges in their daily lives to a broader reality and to the democratic process. It is a rare and unusual thing.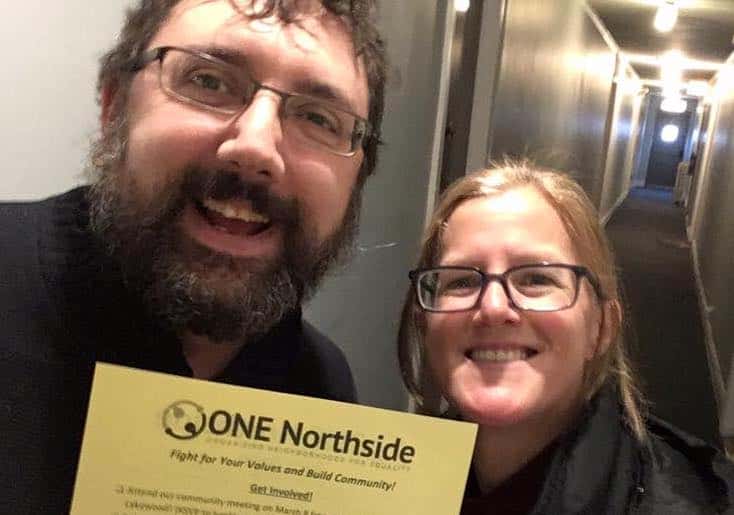 People expect that someone at their door is there to sell them something – a product or a candidate. Door after door, I find that the person behind it lets their guard down when they realize I'm genuinely there to listen to them, to hear about their experiences. Most are delighted to learn there is an organization out there fighting for the causes they care about.
On February 24, 40 of our volunteers knocked on 1,000 doors, as part of the #ProtesttoPower canvasses organized nationwide by People's Action every month between now and November. We had 180 conversations, and of these, 95 committed to vote in Chicago's March 20th primaries and get involved.
I truly believe our members are the people they've been waiting for. There are so many folks out there who share our values, but have never heard of grassroots organizations or don't know how they can help.
A Way In
After Trump got elected, we got hundreds of calls from people who wanted to engage with ONE Northside. I'm thankful for it. But to be honest, I struggled to figure out how to put so many fresh people to work. They were largely middle-class and white, worked 9 to 5 jobs, and had children to care for when they got home. They could rarely attend our #ResistTrumpTuesday actions during the day or evening meetings.
Canvassing is a great entry point to organizing for these folks. Deep canvasses afford us the opportunity to listen to people about their worries and concerns, hopes and dreams, and connect them to our broader movement for change.
Canvassing and phone banks also need a lot of people, so they are great opportunities for current members to take on new roles. You need greeters, trainers, people working on the logistics and preparing the materials, people to amplify your event on social media and more.
And as we train more people, the more canvassing locations we can run concurrently, and the more people we can reach and bring into our movement. I led our training in January. In February, the training was completely member-led. Additionally, we have members helping with outreach to schedule and conduct one-on-one conversations with each person we met through the canvass. Staff alone could never do all those meetings.
Year In, Year Out
We can't just show up at people's doors around election time and expect that one brief conversation will convince them to vote. This is about building relationships, and deepening people's understanding of why things are the way they are and what we need to do to change it. It's about breaking people out of an individualistic mentality and helping them see they're not alone.
The status quo and the people who benefit from it count on low voter turnout. If they didn't think voting was a threat to their power, they wouldn't be trying to pass voter-restriction laws throughout the country. Changing the electorate and increasing voter participation are our keys to upending the status quo. But we know it won't happen overnight. This slow, but steady year-round process is how we will change things over the long haul.
It's Awkward at First
Canvassing and phone banking still make me feel nervous, and many of our members feel the same way. I worry that I am bothering someone, that I'm "breaking the rules" by ringing the buzzers at an apartment building, then starting at the top and knocking on every door.
I worry that I'm invading people's sense of privacy. Most people do, because we're socialized to feel this way. And feeling this way means we maintain the status quo. It means neighbors don't talk or listen to one another. It means we don't get to know each other, and lose opportunities to build deep relationships.
Every time I canvass, I feel these feels. I deal with it by reminding myself why canvassing and voter engagement is so critical to my long-term ability to be free – to feel safe as a woman, to know that my voice is valued, to live free of worry about getting my children into a 'good school' or how I will pay for college or what condition the planet will be in by the time I have grandchildren, to live in a world where my values are not violated on a daily basis.
The fear of giving up and ceding my power to create change far outweighs the discomfort of knocking on a stranger's door.
Every Time I Feel Good
One woman I met barely opened her door a crack. But once we got her talking by asking 'why' and 'how does that affect you,' she opened her door, and we talked for longer. She is a retired hospice nurse. She is involved in a local neighborhood-police organization, because that was the only way she knew to get involved in her neighborhood. She and I are meeting for coffee this week to talk more.
Another pair of canvassers met a man who was spewing Fox News rhetoric at them. They didn't shame him; they heard him out, and asked why he felt the way he did. Eventually, he mentioned that he lives with mental illness. They asked him about his experience and he expressed how lonely and isolated and stigmatized he feels. His guard went down when the two canvassers connected with him based on their own experiences. His worldview probably didn't change through that one conversation, but he probably feels a little less alone. We will continue to engage him so he knows he's not alone, and share our understanding of why things are the way they are.
The Time Is Now
We'll be out knocking again in March, then again every month between now and November, because there's a lot at stake. In Chicago, and all across this country, we have big elections in 2018, 2019, and 2020. So it's now or never for us to be out there engaging our neighbors and doing the long-term work to engage new constituencies of voters.
We had just 34 percent turnout in our last general municipal election, in 2015. In all of Illinois, turnout was under 49 percent for our last governor's race.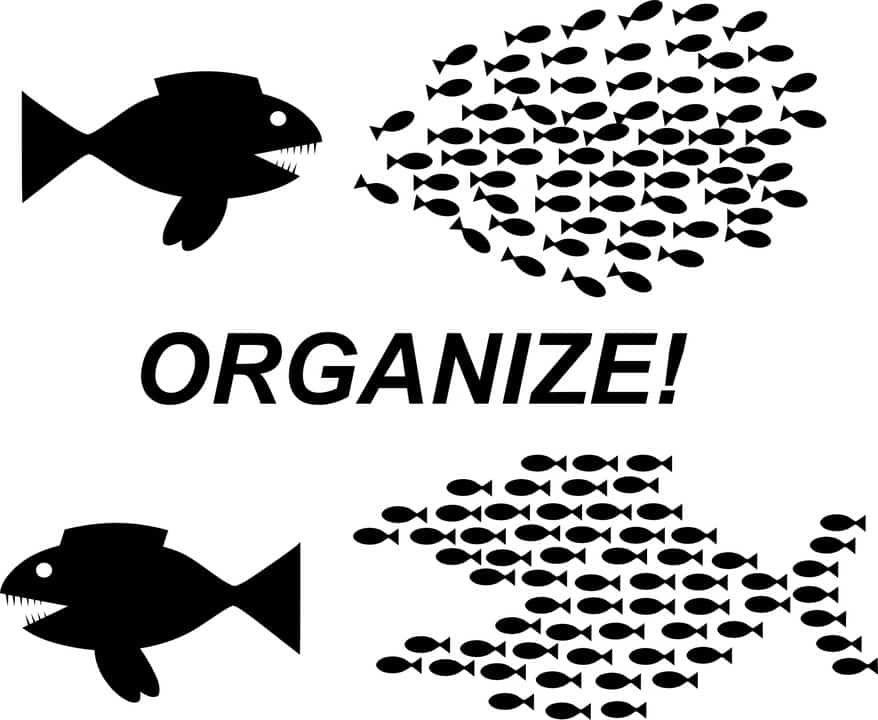 I know skepticism about politics runs deep. And it is deep for good reason. Corruption in Chicago is real. And all too often, we feel like we're voting between the lesser of two evils. But the more people stay home and don't participate, the less accountable people in office feel to the electorate and the more accountable they feel to the billionaire class that bankrolls their campaigns.
We are the people we've been waiting for. We are the people our neighbors have been waiting for. So join a #ProtesttoPower canvass near you: it's the best tool we have to create the organizing fish – to organize all the little fish (that's you and me) to work together and chase away the big sharks.