"Deep in my heart, I do believe, that we shall overcome some day."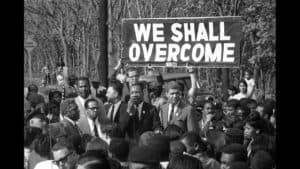 Songs were integral to the civil rights movement. And no song was as iconic as "We Shall Overcome." It inspired a generation of civil rights warriors, was sung at rallies, churches, marches, concerts, and by the SNCC Freedom Singers, Bob Dylan and Joan Baez to close the Newport Folk Festival in 1963.
And no places were as iconic to the civil rights movement as Selma and Montgomery Alabama. It was in Montgomery that Rosa Park first refused to give up her seat in the front of the bus to a white man, sparking the successful Montgomery Bus Boycott that brought a 26-year old preacher named Martin Luther King to national prominence and inspired a mass movement for justice.
It was in Selma that hundreds of activists faced down armed state troopers to attempt to march across the Edmund Pettus Bridge  and John Lewis was nearly beaten to death by Alabama police.
And a few weeks later, it was the Selma to Montgomery Civil Rights March that finally pushed Congress to enact the historic Voting Rights Act.
The Arc of History
The path towards equal rights for all has hardly followed a straight line, and there have been many setbacks along the way, not the least of which was Donald Trump's electoral college victory.  And the 5-4 majority Republican Supreme Court recently eviscerated the Voting Rights Act, unleashing a slew of voter suppression efforts that aim to keep minorities and young people from exercising their Constitutional right to vote.
But in Alabama, at least on one day, we overcame overwhelming odds. Much of the credit goes to the people of Selma, Montgomery, and the rest Alabama's Black Belt, as well as to whites in the state - both Republicans and Democrats -whose decency couldn't bear the thought of a bible-thumping white child molester representing their state in the U.S. Senate  and being a symbol of Alabama for the world.
By the latest count, Doug Jones defeated Roy Moore by 20,715 votes statewide. But in Montgomery County, Jones won by 30,481 votes (nearly a 4-1 margin) and in Dallas County, of which Selma is the county seat, Jones won by 7007 (also nearly a 4-1 margin).
As Martin Luther King famously said, "The arc of history is long, but it bends towards justice." And today in Montgomery and Selma and across Alabama, it did.
I went to bed humming "We Shall Overcome" with tears of joy in my eyes.  And tomorrow I'll wake up, determined to continue the fight for racial, social, gender, and economic justice.