Despite freezing temperatures and the season's first significant snowfall, hundreds of people from across New England turned out Saturday to demand that Senator Susan Collins finally listen to the will of the voters and reject the Republican tax overhaul.
An estimated 250 people marched across the Memorial Bridge on Saturday. The line of protesters marched across Memorial Bridge, which connects Portsmouth, New Hampshire to Kittery, Maine, behind a banner which read: "Sen. Susan Collins, You Are Wrong."
Former Massachusetts congressman Barney Frank told the crowd he was "blown away" by the size and commitment of the group, which after the march held a rally in Kittery's John Paul Jones Park, where they heard speeches from Frank and other local leaders including Kittery Democrats chair Kathleen Marra, and state Reps. Deane Rykerson and Mark Lawrence.
"This is a time of absolute importance," declared Frank. "This is an important decision and it is simply unfair to all of you."
"Once they cut taxes, they will go after the programs important to us," he continued. "They will increase the deficit deliberately and then tell you their hands are tied, that there is no money for programs. They will tie themselves in knots and then say they wish they could help but there's no money."
In recent weeks, Maine voters have made it clear that they are not willing to stand idle as the Republican party prepares to slash funding for essential programs like Medicare and Social Security, all while giving a massive tax break to corporations and the wealthiest Americans. Saturday's march was just the latest in a series of local actions – including civil disobedience – organized against the plan, particularly aimed at convincing Collins she had made the "wrong" choice in supporting it.
For her part, Collins has tried to defend her vote on the Senate bill, and has subsequently had to walk back a number of false statements made about the impact of the legislation. Meanwhile, it remains unclear if she will continue to support the tax plan if certain provisions are not included. Progressive groups hope this makes her vulnerable for influence if the wave of opposition to the GOP plan is strong enough.
As Frank told the crowd, "this is the most crucial vote of our lives and Maine is the most important place to be right now." He encouraged Mainers to send letters to the senator voicing their opposition to the bill.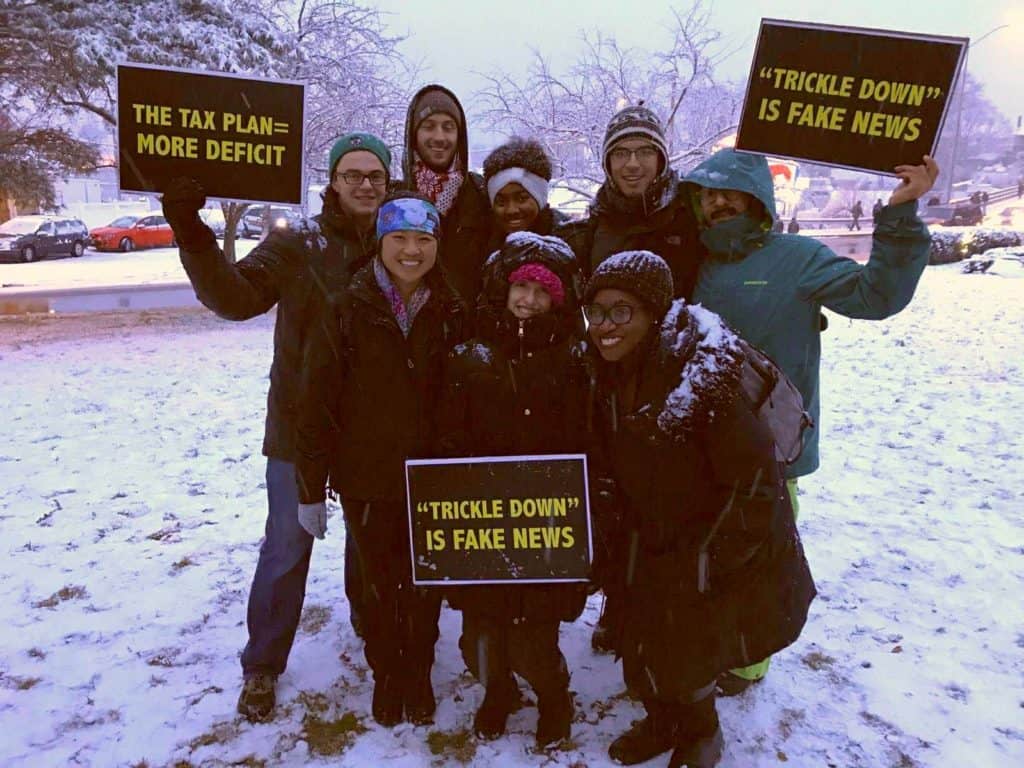 Speaking to Beacon after the march, Kathleen Marra, chair of the Kittery Democrats, noted that local resistance groups organized the march in just six days. "Everyone was eager for an event like this," Marra said. "Everyone wants to send her a strong message, we just provided the opportunity."
After the march, protesters rallied in Kittery's John Paul Jones Park. The York County Democratic Committee, which was among the organizers, is holding another rally this Wednesday night outside of Collins' office in Biddeford.
First published by the Maine Beacon