Republicans in Congress want to drive our nation's economy, and budget, off a cliff. They just don't care. But it doesn't have to be that way; here in Illinois, we know from experience there is a way out of this madness, if we stand together and put people and planet first.
Desperate for a win, Republicans are poised to ram a spending plan through the Senate that cuts over $5 trillion from domestic programs, including $1 trillion from Medicaid and $470 billion from Medicare. Why? So they can give tax cuts to the rich and other giveaways that, by their own admission, help those who need them least.
Here in Illinois, we saw this coming. Our state leaders, drunk on austerity, have cut spending by 27 percent since 2002, driving us into a budget impasse that lasted two years, devastating our social safety net and public university systems.
But out of crisis comes clarity. For over seven years, ONE Northside has patiently organized Chicagoans around the fact that we are in a revenue crisis, not a spending crisis. We've done the math: there is a better way, and we know it can be done.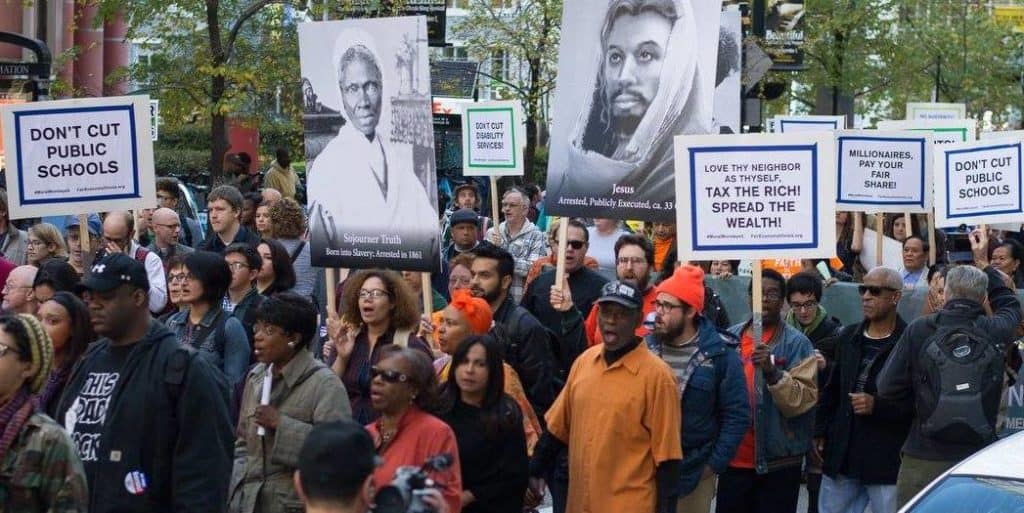 Who We Are
ONE Northside is a community organization comprised of 100 member institutions, including service agencies, schools and congregations, and over 800 individual members. We've joined together with Illinois People's Action, Jane Addams Senior Caucus, The People's Lobby and other grassroots groups to reclaim our state's true values.
While the billionaires and big corporations who hijacked our government push austerity at every level, in Illinois we're fighting back with a bold vision of prosperity for all people.
It hasn't been easy: in May, with our state budget on ice, we, along with our allies in Fair Economy Illinois, marched for fifteen days from Chicago to our state capitol in Springfield to present our budget and its vision for a sustainable future. Unlike theirs, our goals aren't pie-in-the-sky: we know they can be achieved.
While there were victories in the budget the state finally passed in July, like the closure of three corporate tax loopholes that we'd been advocating should be closed, the budget still mandated an additional 5 percent cut across the board, and a 10 percent cut to universities.
Illinois has the fifth largest economy in the country, yet we rank last in state funding for public K-12 education. For years, our leaders have passed their heartless choices on to us: yet we know we shouldn't have choose between offering Immigration services and homeless prevention. Domestic violence shelters should not compete with public universities for funding.
We are sick and tired of fighting for crumbs. In downtown Chicago, people beg for money on nearly every block. It didn't use to be this way.. The cuts we've sustained over the last fifteen years have done profound harm to communities throughout the state. Our work is far from over.
Finding Solutions
While we organized for progressive revenue solutions, however, we realized how deeply the 'anti-government, anti-tax' narrative had taken root our communities. It was difficult to convince people that our state needs to levy more taxes - even when we assured them we wanted the state to tax the rich and big corporations, not working people. People instinctively question why they should further fund a government they no longer trust and believe is bloated and inefficient.
With our partners in Fair Economy Illinois and the Grassroots Collaborative, we took a page from the Freedom Budget for All Americans campaign in the 1960s. We developed a vision for a budget that inspires people, that addresses families needs and concerns across all races and income levels, and most importantly, that speaks to the positive role government can play in ensuring everyone has opportunities to thrive.
Our campaign for a People and Planet First Budget is a long-term fight. We are engaging in intensive base-building, doing the slow work of changing people's hearts and minds about the role of government in our lives.
We go door-to-door and visit shelters and service agencies to hear people's dreams for their communities, and explain that these dreams are possible, and resources within reach, if we organize and tax the rich and big corporations.
How We Organize
We are advancing legislative solutions. Each year, we work with legislators to introduce a package of corporate tax loopholes that need to be closed, a resolution to amend our constitution to allow for a progressive income tax, and a financial transactions tax. We educate our members, all along the way, on these progressive revenue solutions.
We mobilize in the streets doing direct actions on big corporations and top political donors to our governor. And while these actions may not directly advance legislation, they have helped change the debate in Illinois, in our state capitol and around the kitchen table.
We are building political power and supporting candidates that run on our People and Planet First platform. We are building long-term, strategic alliances with allies who support this vision and who share our awareness that racism and the unequal sharing of resources are at the root of many of the ills we see in our communities.  
These strategies are working!  Illinoisans are waking up to the fact that if we want programs and services in our communities, then we need government to pay for them and our government needs to be better funded. Voters are waking up. And so are candidates for public office.
See You on Election Day
Illinois has a governor's race in 2018. Currently, every major contender in the Democratic primary is campaigning on a message that we need a progressive income tax in Illinois so we can make the rich pay their fair share. Legislators state publicly that we need to close more corporate tax loopholes. This is a radical shift in the debate here from four years ago.
We now ask the nation to take a page from our playbook. We cannot succumb to the defensive posture Trump and Congress want us to have. We've been on the defense for far too long, fighting over the crumbs of an ever-shrinking pie.
As they say in sports, the best defense is a good offense. We must be brave enough to dream big, and declare what it is that we want and need, not just what we're willing to accept. And we must organize, for all too often, the Right has won the battle for messaging, and with it, hearts and minds.
But when we organize, we help people understand government is simply a tool - as good or as bad as those who hold it. So it matters who is in charge. When we create a vision that inspires people about the role government could play in their lives with the necessary resources, then we build the momentum that can win sweeping transformations of our economic system.
From our perch in Chicago, it can feel difficult to know when to weigh in on these national debates. But nothing will deter us from speaking up, and stepping in to help those affected understand what is happening, and develop strategies to resist.
We can do this. We stood up to the GOP's bullies to save health care, and we'll stand up again to stop their heartless budget and tax cuts.  Because in Illinois, we know so much is possible when we stand together.