As families around the country prepare to celebrate Mother's Day, thousands of mothers are sitting in jails before even having been convicted of a crime. Now Black-led groups are working together to bring these mothers home so they, too, can celebrate with their families.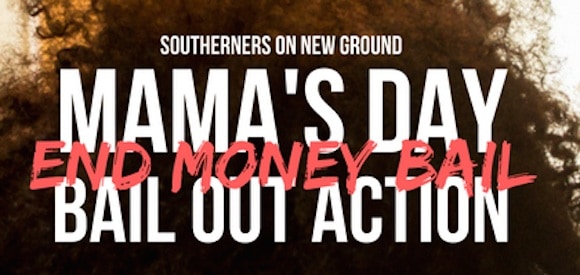 These mothers are victims of the money bail system. The way it works is simple: if you are arrested, you have to come up with cash to be bailed out. But this isn't simple for mothers living in the margins.
Mothers who are low-income, queer, trans, undocumented, or who are sex workers, all face conditions that make it more difficult to navigate a justice system that targets them for arrest in the first place.
These conditions are what motivated Southerners On New Ground (SONG), an Atlanta-based LGBTQ rights group, to launch Mama's Bail Out. The goal of the campaign is to raise money to bail out Black mothers so they can spend Mother's Day  with their families.
"We want to bail out mama's in all our varieties - queers, trans, young, elder, and immigrant," SONG says on the campaign's website.
More than 2,000 people have raised more than $250,000, and the campaign continues to grow with the support of local Black Lives Matter chapters nationwide, Color of Change and other Black-run organizations.
The Mama's Bail Out campaign also raises public awareness around the unfairness of money bail. Across the country, bail reform is central to the campaigns of both grassroots organizations and reform campaigns that target District Attorneys.
The campaign's statement continues:
From Little Rock, Arkansas Black Lives Matter to Charlottesville, Virginia, hundreds and thousands of our people have put in the work from fundraising on the street, stuffing gift baskets, countless late night meetings, jail visits, filing open records requests and navigating the dizzying intricacies of local jails to make this vision a reality.
All across the country, people are jailed before their trial for almost every kind of charge, even charges that pose no apparent danger to society. Money bail can amount to hundreds of thousands of dollars for felonies. For misdemeanors, a third of those offered bail in New York City in 2010, for example, were expected to pay a thousand dollars.
Inability to pay bail causes tens of thousands of people to sit in jails not as punishment for a crime, but as punishment for being poor, as they wait for a trial. 85 percent of those at Rikers Island jail are awaiting trial. 90 percent of people incarcerated in Orleans Parish Prison in Louisiana and Cook County Jail in Chicago have never had their day in court. Many of these people are low-income folks who couldn't pay bail.
As noted on the Mama's Bail Out website, "Every day, an average of 700,000 people are condemned to cages and separated from their families because they cannot afford to pay bail. Since 1980 the number of incarcerated women has grown by 700 percent."
The freedom of thousands of women hinges on whether they have enough money to avoid being incarcerated before a trial.
With the campaign, SONG wants to draw attention to women's struggles and variety of experiences, as conversations about incarcerated people tend to focus on men. This makes sense as men are incarcerated at a much higher rate, and are more likely to be racially profiled.
"The numbers are very skewed towards men - that's real," notes Alyssa Aguilera, Co-Executive Director of VOCAL-NY, an organization that has been on the frontlines of the fight to close the Riker's Island jail. "Women have a unique place in the system of mass incarceration. The solutions need to be unique as well."
More than 60 percent of women in state prisons have a child under 18. This state of crisis is exacerbated by anti-Black racism among other forms of systemic exploitation -- Black women are incarcerated at four times the rate of white women, for example.
In addition, the complexity and responsibiliites of women's lives can lead them to be trapped by the bail industry.
As reported by the Vera Institute, "Women often become involved with the justice system as a result of efforts to cope with life challenges such as poverty, unemployment, and significant physical or behavioral health struggles, including those related to past histories of trauma, mental illness, or substance use."
Transgender women face high rates of poverty due to systemic conditions that disadvantage them, and are also often profiled as sex workers and drug users, leading them to have high rates of arrests.
Many trans women have biological children in addition to what's called 'chosen family' among queer communities. The intense rejection experienced by queer and trans youth leads them to develop familial relationships in places that aren't tied through blood. These chosen children are similarly at risk when a mother is unable to provide support.
When women are suffering inside jails, their communities suffer outside of those jails. The possibilities of these communities are vast and varied, but they are stunted by the simple fact that bail is not something everyone can afford or should have to pay.
In Trump's America, gender-related protections are being rolled back, which further complicates the situation of mothers. The Republican Party's effort to repeal the Affordable Care Act and destroy Medicaid means sex workers who contract STDs because they're afraid to be arrested for carrying condoms may be refused by doctors either because they're uninsured, or because they're transgender.
And all mothers who rely on Medicaid and other forms of affordable health care run the risk of losing everything, including their ability to stay healthy enough to work and feed their families.
This is the net that drowns so many mothers and results in them languishing in jail cells. By expanding the scope of our understanding of mass incarceration, we reaffirm that all people deserve to be free from structural oppression.
As Alyssa Aguilera put it, "We're not buying into this false idea that only certain people deserve to be free. Everyone deserves to be free."
Bail-outs for Black mamas are already happening. We need you to help more mamas get free this Mother's Day.
Donate today to the National Mama's Bail Out Day fund to support on-the-ground actions around the country.