Many people don't "get" Donald Trump's appeal, ascribing it to his racist, xenophobic talk. But there is another factor, a very strong one, and we had best pay attention.
Trump is tapping into an economic anxiety felt by many, many Americans. Our trade policies are at the root of this anxiety, and Trump knows it and says it, and people nod their heads.
Widespread Economic Anxiety
Many Americans are anxious because for most people the economy has gotten worse, not better. Headlines like "Most Americans don't have enough money to cover a $500 emergency" tell the story.
In a national survey by Bankrate.com, 63 percent of people said they don't have the savings to cover a $500 car repair. Only four in 10 Americans would be able to rely on savings to cover anything beyond their usual bills.

That suggests most people live paycheck to paycheck. The survey found just 23 percent thought they could handle an emergency bill by cutting spending.

Another 15 percent said they would cope by borrowing from family. And 15 percent would use a credit card.

... Yet, even with incomes over $75,000, 46 percent said they couldn't pay a $500 car repair. About 52 percent of people with college degrees said they wouldn't have $500 for the car emergency.
I'd guess that 63 percent of readers are nodding their heads, and the rest are saying, "This can't be true." It's the "don't have $500" people who are looking to Trump for relief. It's the "this can't be true" people who are enabling Trump's rise.
This chart from the Economic Policy Institute's (EPI) Wage Stagnation in Nine Charts shows what has happened in our economy: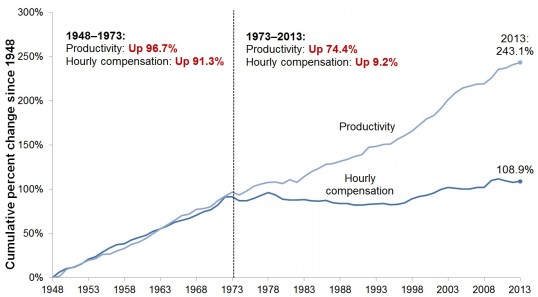 If you go to the "flyover states" and even vast parts of the coastal states you see towns, cities and entire regions where shops, gas stations, even entire shopping centers are closed and boarded up. You see empty houses with the porches collapsing and roofs caving in, and somewhere you will find the "old factory" – a fenced-off empty building with broken windows and weeds growing in the cracks in the parking lot...
People Believe This Is From Trade Policies
What happened? Factories closed and jobs dried up and our government didn't do a thing about it. This left people competing for what's left of the jobs. The "what's left" side of that equation is known as the "WalMart business model." A giant, multinational corporation, run from – and with profits going to – "somewhere else," comes into town and uses its size, economies of scale and foreign-labor supply chains to wipe out the smaller, local businesses and take over. Thanks to jobseeker competition, they hire at or near minimum wage with few or no benefits. People take it because that's all there is and they have to eat.
Those closed factories and WalMart-model retailers are the root of the economic anxiety felt by so many Americans today. Wages overall are stagnant, but this means for many, many people that they used to make an OK living and now they are struggling. If you go to those areas and ask people what's going on, more often than not they say, "NAFTA did it." "NAFTA" is shorthand not only for the North American Free Trade Agreement, but also for the job loss caused by our country's "free trade" policies, beginning in the late 70s early 80's before NAFTA itself, and including the massive transfer of jobs, factories to China in particular that occurred in the 2000's.
Again and again people saw their jobs and their neighbor's jobs shipped out of the U.S. to Mexico, China, somewhere else. Again and again people lost jobs and maybe (or maybe not) took what they could find with paychecks that were too low to get by. And their own government has done nothing at all to help. Desperation and resentment are the result, and the sense of betrayal people feel has just grown and grown.
With That In Mind, Listen To Trump
With that in mind, here is Trump speaking after winning several states in the "Super Tuesday" primaries:
Our nation is in serious trouble. we're being killed on trade, absolutely destroyed, China is just taking advantage of us. I have nothing against China, I have great respect for China but their leaders are just too smart of our leaders, our leaders don't have a clue. And the trade deficits at 400 billion dollars and 500 billion dollars, are too much, no country can sustain that kind of trade deficit. It won't be that way for long, we have the greatest business leaders in the world, on my team already, and believe me we're going to redo those trade deals and it's going to be a thing of beauty.

You look at countries like Mexico, where they're killing us on the border, absolutely destroying us in the border. They're destroying us in terms of economic development. Companies like Carrier Air Conditioning just moving into Mexico, Ford moving into Mexico, Nabisco closing up shop in Chicago and moving into Mexico. We have to stop it, folks. I know how to stop it. We;re going to create jobs. We're going to create jobs like you've never seen.

We're going to lower taxes, I have a plan that Larry Kudlow and so many others think is the best plan they've seen. We're going to lower taxes substantially for the middle class. The middle class has been forgotten in our country. It really helped and really probably was the predominate factor in making our country into a country that we all love so much and we're all so proud of. But we've forgotten the middle class.

So we're going to lower taxes, we're lowering taxes on business. You look at all the companies that are moving out. When you see Pfizer moving to Ireland and you look at all the companies that are moving out. But now they're leaving. they used to move from New York to Florida or they'd ove from New Jersey to someplace else. Now they're leaving from places that they used to move to into other parts of the world, we can't let that happen. We've lost our manufacturing jobs, we;ve lost our manufacturing. Millions and millions of jobs, thousands and thousands and thousands of plants, manufacturing plants, warehouses, I mean we are losing tso much. We can't let that happen. I talked to a fried of mine who is in the excavation business. He used to order from Caterpillar. And recently he ordered Kamatsu tractors from Japan because they've cut the yen, they've devalued the yen to such an extent that it was virtually impossible for Caterpillar to compete. And I don't want that to happen. That's not going to happen. They shouldn't be allowed to do it. We have tremendous power over everybody because we are really the source. We have great great power. The problem is we have politicians that truly truly don't know what they're doing.

[Much later ... on why he will do well with African Americans and Hispanics] I'm going to bring jobs back. I'm going to get Apple to start making their computers and their iPhones on our land, not in China. How does it help s when they're making in China. So I'm going to create jobs.
Trump is tapping into huge anger over trade deals and their results. These results have been great for an elite class that pushed them and gained from them. These results have absolutely devastated the "American way of life" for most people and they feel betrayed by "the system." This could well carry him to a win.
Do you get it now? Trump is going to be a formidable opponent in the 2016 campaign and it is not just white racial resentment that is propelling him. He is promising to return jobs to the U.S., whatever it takes, and this is going to appeal to people of all colors. He is not indebted to "the donor class" that won't allow their purchased politicians to say that our trade policies are the problem.
If you are someone who doesn't "get" how so many people can say they don't even have $500 to fix their car in an emergency, someone who thinks "trade is always good," someone who has voted for politicians who approve of these trade deals, this is on you.