The U.S. Business and Industry Council (USBIC) has launched a media campaign intended to drive awareness of the lack of enforceable currency provisions in the Trans-Pacific Partnership (TPP).
USBIC represents domestic manufacturers and has an excellent Trading Away Jobs website.
The group's print ads will appear in Capitol-Hill-oriented media: Politico, The Hill, and Roll Call.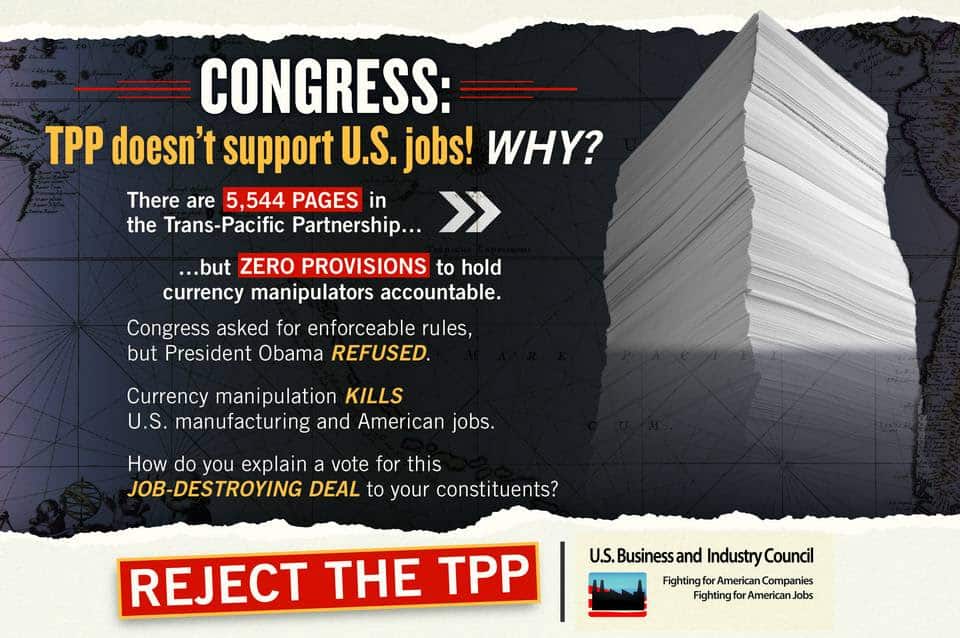 USBIC's President Kevin L. Kearns said of the ads, "We want to remind Congress that President Obama completely ignored their request for strong, enforceable currency measures in the TPP. Bipartisan majorities of both houses have consistently demanded action on currency cheating. Clear negotiating instructions on currency were included in the Trade Promotion Authority legislation. However, the president chose to frustrate the will of Congress by relegating currency cheating to a TPP side letter that contains no enforceable provisions and instead calls for more meaningless chit-chat diplomacy on the issue. Congress now has the chance to show that it meant what it said about currency cheating in a recorded vote by rejecting the TPP."
The recent post, "Japan Proves TPP Won't Fix a Key Trade Problem: Currency Manipulation" explains that TPP does not address currency manipulation, but was accompanied by a "Joint Declaration of the Macroeconomic Policy Authorities of Trans-Pacific Partnership Countries." The declaration has no enforcement provisions, and on November 6, Japan's Finance Minister said that Japan will not change its currency practices because of TPP or its side agreements. Reuters reported on this, in "Finance Minister Aso: TPP deal won't have binding power on Japan's forex policy"