The White House will hold a Summit on Working Families on Monday, and Republicans want in on the action. Republicans are feigning concern for working families, with a fake agenda meant to distract us from their lack of any real solutions.
Republicans can't be blamed for trying. The White House and congressional Democrats are putting together an agenda that could make a real difference for working families. They will probably spend the rest of the campaign season hammering home that Republicans will block every Democratic proposal to help working families.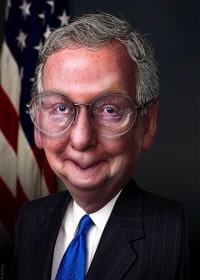 Republicans have to offer something to show that they care about working families. So, the GOP is rolling out its working families agenda, called "A Fair Shot For Everyone." The centerpiece is Senate Majority Leader Mitch McConnell's (R-Ky.) "Working Parents Home Office Act." McConnell introduced the bill on Wednesday, in a speech accusing the Obama administration of "playing politics" while Republicans have assembled "good ideas" to "help middle-class families struggling with a modern economy."
Touted as a bill that would give parents a tax deduction if they have a baby crib in their office, the two-page bill merely amends the tax code to remove the "exclusive use" requirement for home offices, if the other use involve caring for a "qualifying child." The "exclusive use" clause prohibits the deduction of business expenses for any part of the home used for both personal and business purposes.
As a parent who worked from home for several weeks after the birth of each of our two boys, and about once a week thereafter, McConnell's bill would do me almost no good at all. Sure, I have a home office, but it's not used exclusively for conducting business — mine or my employers. How could it be when, after business hours, my oldest son commandeers the computer to play Minecraft, the youngest to watch Disney videos, and my husband to check email and surf the web? Not to mention my own after-hours use of the same office for helping with homework, writing, shopping, etc., unrelated to work.
McConnell's little bill makes a tiny change that might help very few families, while ignoring the concerns of the vast majority of working families. It doesn't address childcare for parens who have to commute to the office. It doesn't help working parents who have to miss work due to a child's illness, or their own. It doesn't help working parents who lack the flexibility to telecommute from their home office. It doesn't help working parents who don't earn enough to even qualify for a tax deduction.
The GOP's lack of ideas that would really help working families reflects the party's long and abysmal track record.
McConnell voted against the 1993 Family and Medical Leave Act, which granted only limited, unpaid leave to some — but not nearly all — workers.
McConnell also voted against a 1997 bill expanding tax credits to encourage improvements in child care services and options for meeting employee child care needs.
McConnell voted against moving forward with the Paycheck Fairness Act, which would require business to clarify reasons for paying different wages to men and women doing the same work.
McConnell voted against raising the minimum wage 15 times, and led the Republican filibuster that blocked a Democratic bill to raise the federal minimum wage to $10.10 an hour.
Republicans blocked the Paycheck Fairness Act several times, claiming it would result in more lawsuits against employers.
Republican legislatures and governors in Florida, Arizona, Louisiana, Mississippi, Tennessee, Kansas and Wisconsin have enacted ALEC-authored "preemption laws" to block any legislation requiring businesses to give employees paid sick leave.
The rest of the Republican agenda actually does harm to working parents and their families.
Sen. Susan Collins' (R-Maine) "Forty Hours Is Full Time Act" would repeal Obamacare's 30-hour workweek rule, which would cause 500,000 people to lose their health care coverage, leaving them uninsured.
Sen. Mike Lee (R-Utah) is bringing back the Working Families Flexibility Act, which would convert overtime pay into comp time, to be doled out — or not — as employers see fit.
Sen. Deb Fisher (R-Neb.) has signed on to an "alternative" to the Paycheck Fairness Act, that doesn't raise caps on punitive damages women may seek in court, making it that much harder for women who are already struggling to get equal pay through the courts.
The White House hasn't even had its summit yet, but Democratic proposals like the Family and Medical Insurance Act, which would provide all workers with up to 12 weeks of leave with partial income, are a lot better than anything the GOP is offering. The proposals that are likely to come out of the White House summit will likely reveal a stark difference between the parties, and a clear choice for working families.