While conservatives fret over breadwinner moms and caregiver dads, Democrats are working to create a more family-friendly economy, starting with a family-friendly workplace.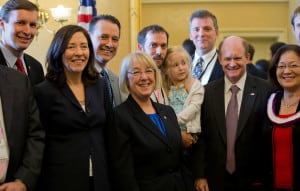 I attended a Working Fathers and Families Meet and Greet on Tuesday, hosted by Sen. Patty Murray (D-Wash.). Working dads and stay-at-home dads spoke with senators about our experiences. Each of our stories reflected the need for workplace policies that support today's working families.
Last June, a Pew Research Center report revealed that four in ten American households with children under 18 include a mother who was the sole or primary earner. That set off a discussion about the role of fathers. Right-wingers panicked, and are still in an utter panic one year later. As a gay dad, I participated in a New York Times "Room For Debate" feature on the subject, and a panel discussion on "To The Contrary: With Bonnie Erbe."
Father's roles have changed.
A Boston College Center for Work & Family study found that a majority of fathers, especially those under 40, are moving away from the traditional "breadwinner" role.
Today's fathers spend twice as much time with their children, and twice as much time doing housework, as dads a generation ago, according to Labor Department statistics.
One in five children in day care now have a dad identified as primary caregiver.
One in 14 fathers with children under 18 are single parents; a seven-fold increase since 1970.
The number of stay at home dads is at a record high of 2 million, up from 1.1 million in 1989; with a sharp increase in the percentage of men choosing to stay home out of a desire to care for their families — rather than illness or disability — from 5 percent in 1989 to 21 percent in 2012.
An Ad Council survey showed that 86 percent of current fathers want to be more involved with their children.
The percentage of married couples with children in which the wife's income tops the husband's income increased from 4 percent in 1960 to 23 percent in 2011, while the percentage in which the husband out-earns the wife has dropped from 95 percent to 75 percent.
Because of social and economic changes, motherhood and fatherhood are converging into parenthood.
That's always been the case in our family. Childcare and housework aren't assigned or assumed on the basis of gender, but are shared equally, or based on availability or preference. My husband is the primary breadwinner, and flexible working hours and teleworking help me to support him in that role, while working and caring for our children. As parental and gender roles shift and converge, all kinds of families rely on these policies to help them balance raising and supporting a family.
Unfortunately, the American workplace policy hasn't kept up with America's working families.
Employers have been slow to recognize men as caregivers. Men now deal with the same stigma that women have long faced at work, when they seek to spend more time with their children, or ask for changes to accommodate family needs. They're also "feminized," and perceived as uncommitted to work. People have actually said to me, "So, you're basically the 'wife'" or "you're the 'mom'," regarding my role in our family. That perception is linked to lower performance evaluations, increased risks of being demoted or downsized, reduced pay, and diminished rewards. As a result, men are less likely to use flexibility policies available to them, leading to greater stress for families; the percentage of men reporting work/family conflicts rose from 33 percent in 1977 to 60 percent in 2008.
As Sen. Murray said in her speech after the event: "…what these fathers made clear is that the economic barriers we often see impacting women, like: inflexible workplace policies, the high cost of child care, and unequal pay, aren't just holding women back. They are holding 21st century families back."
Tuesday's event was part of a series. Last week, the White House held a "first ever" forum on working fathers, headlined by New York Mets second baseman Daniel Murphy, who was slammed for skipping the first two games of the season to be present for the birth of his son. Next week, the White House will hold a Summit on Working Families, spotlighting the need for family-friendly workplace policies.
Democrats are offering a number of proposals to support working families, like the Federal Employees Paid Parental Leave Act, which would give federal workers four weeks of paid parental leave; and the Family Medical Insurance and Leave Act — or FAMILY Act — which would provide up to 12 weeks of paid family and medical leave to millions of workers and their families. Republican efforts have taken the form of Orwellian bills like last year's "Working Families Flexibility Act," which would have robbed working families of overtime pay, by turning it into "comp time" to be doled out — or not — by employers as they see fit.
The real "disintegration of the family" is economic — not moral — in nature. The solution is a family-friendly economy, and that begins with a family-friendly workplace that supports working mothers and fathers, and doesn't force parents to choose between work and family.