The nominee for US Trade Representative (USTR) has just promised Congress that he will push for "Fast Track" authority. Fast Track essentially removes democracy from the trade negotiating and agreement process. It also gives negotiators the authority to go way beyond what we would consider "trade," and requires a fast (60 days) "up or down" approval vote without amendments. This gives the giant corporations the opportunity to blast the country with major, multi-million-dollar PR campaigns just before a vote comes up, swamping the ability of We the People to organize and respond.
Trade Rep Nominee Pushes For Fast Track
This just hit the news: Reuters, USTR nominee Froman promises push for trade promotion authority, "If confirmed, I will engage with you to renew Trade Promotion Authority. TPA is a critical tool. I look forward to working with you to craft a bill that achieves our shared goals," Mike Froman, currently the White House international economic affairs adviser, said at his confirmation hearing."
"Trade promotion authority" is also known as "Fast Track."
What is Fast Track? This Sunday evening I am moderating an FDL Book Salon: The Rise and Fall of Fast Track Trade Authority with author Lori Wallach. From the book cover:
"Fast Track facilitated controversial pacts such as the North American Free Trade Agreement (NAFTA) and the World Trade Organization (WTO), which extend beyond traditional tariff-cutting to set constraints on domestic financial, energy, patents and copyright, food safety, immigration and other policies."
Congress first passed Fast Track in 1974.
Here is a chart that tracks our balance of trade. The trade deficits really got going in 1977, and then look at what happened after that.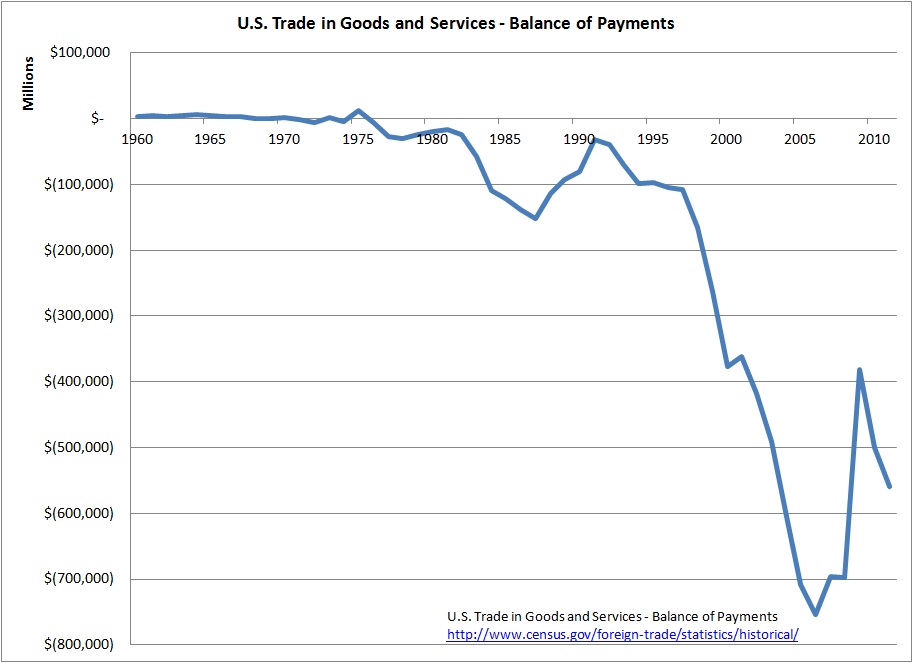 Now here is a chart that tracks the relationship between productivity and wages. In other words, it tracks how working people's wages stopped going up around the same time: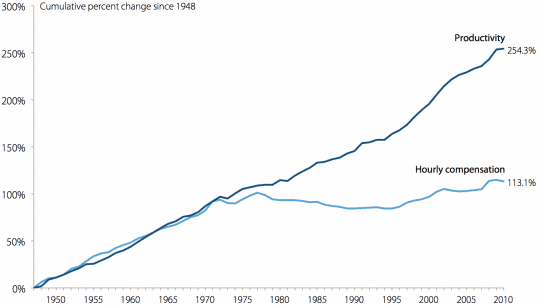 And I whipped up a chart of the trade deficit, and labor's share of the benefits of our economy...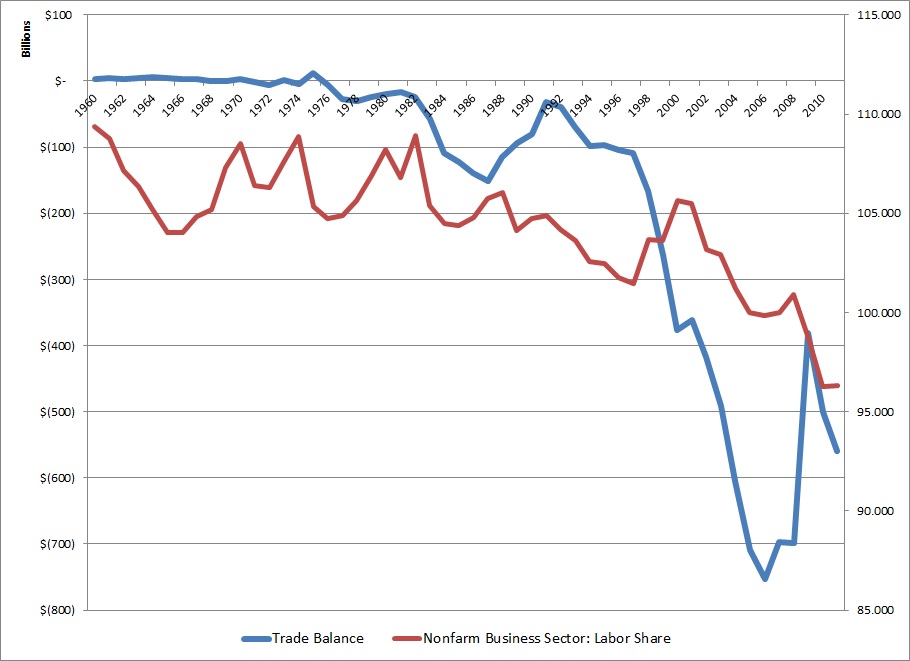 I wonder if there is any relationship between these...
PS See also Richard Eskow, Corporations Are Colonizing Us With Trade Deals – and Wall Street Wants In and my earlier post, TPP: A Deregulation Treaty Not A Trade Treaty.
Oh, one more post: Job Fear From Trade Deficit Is What Happened To Jobs And The Middle Class.
-----
Follow me and CAF on Twitter: