Church Of England Opens Doors and Dialogue With Occupy Protestors
From guardian.co.uk
November 1st, 2011
guardian.co.uk —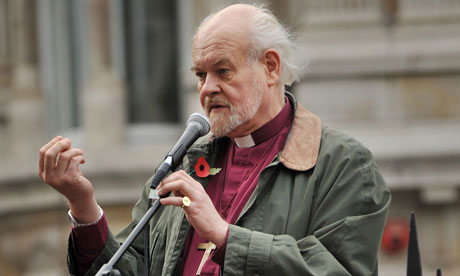 The Church Of England is an institution with global reach and it has concluded that far from closing its doors and evicting London's occupy protestors it should open its doors and listen to them. The Churches in America should also be opening up, lets hope they find their voice.
"The alarm bells are ringing all over the world. St Paul's has now heard that call," said the Bishop of London, Richard Chartres, who was called in to help the cathedral change course after its dean, the Rt Rev Graeme Knowles, resigned on Monday following heavy criticism of the decision to close St Paul's for a week and cut off all contact with the protest camp.
In a statement that drew repeated cheers as protesters read it aloud at their daily assembly, Chartres said the doors of St Paul's were now instead "most emphatically open to engage with matters concerning not only those encamped around the cathedral but millions of others in this country and around the globe".