Top Veterans Groups to White House: Chained CPI Will Mean "Real Sacrifice" for Veterans
August 12, 2011 - 5:05pm ET
---
Eight leading veterans' groups sent letters to President Obama, and members of the House and Senate this week, urging them not to adopt the chained Consumer Price Index (CPI) for determining cost-of-living adjustments (COLAs) for Social Security and VA benefits. The letter relied on information from a new analysis by the Strengthen Social Security Campaign showing that the chained CPI will have an especially large effect on veterans and their families.
The letters from the American GI Forum, AMVETS, Blinded Veterans Association, National Military Family Association, Paralyzed Veterans of America, VetsFirst, a program of United Spinal Association, Vietnam Veterans of America, and VoteVets.org identified significant cuts that would occur to 9 million veterans receiving Social Security retirement benefits, 3.2 million receiving VA Disability Compensation Benefits, and 310,000 receiving VA Pension Benefits if the chained CPI was used to calculate the annual COLA.
The letters from veterans groups said: "Many veterans who rely on these programs live on fixed incomes and very tight budgets. For them, every dollar of hard-earned benefits counts in meeting basic expenses, attaining quality of life, and building a better future for themselves and those who depend on them. For many of them, reducing the annual COLA would mean real sacrifice. We ask that you not do that for those who have already sacrificed so much for this great country."
The chained CPI, a change in the way inflation is measured, which would reduce Social Security and VA benefits, by cutting the annual COLA, as well as increase taxes, by slowing the rate at which tax brackets rise, has been on the table in deficit reduction talks for months.
(For more on the chained CPI click here.)
The Strengthen Social Security Campaign's new analysis of the chained CPI COLA cut shows that it will hit veterans and their families especially hard. Here are some key facts from the report:
• Social Security is the largest program serving veterans and their families. Over 9 million veterans receive Social Security benefits—four out of ten veterans. By contrast, in 2010, 4.1 million veterans received VA benefits.
• The chained CPI will be a double benefit cut for veterans who receive both Social Security and VA benefits. Over 9 million veterans receive Social Security benefits—four out of ten veterans. The exact number of veteran Social Security beneficiaries that also receive VA benefits is unknown, but 771,000 of the veterans receiving Social Security benefits, are receiving disability benefits, which means they undoubtedly receive VA disability compensation (it is harder to qualify for Social Security disability).
• VA benefits are already modest. There are two principal VA benefits programs that go to veterans: disability compensation and pension benefits. The former are for veterans with service-connected disabilities, and the latter are for non-service-connected disabled veterans or elderly veterans with income below the poverty level. In 2011, veterans with service-connected disabilities received $32,076 in annual VA disability compensation benefits, and poor veterans received $11,830 in annual pension benefits in 2011. (See graphs for how the chained CPI would reduce each of those benefits respectively.)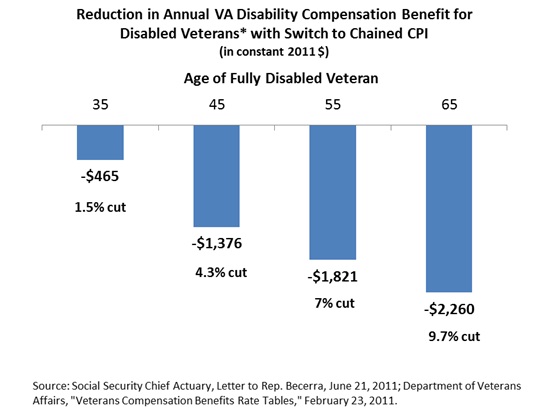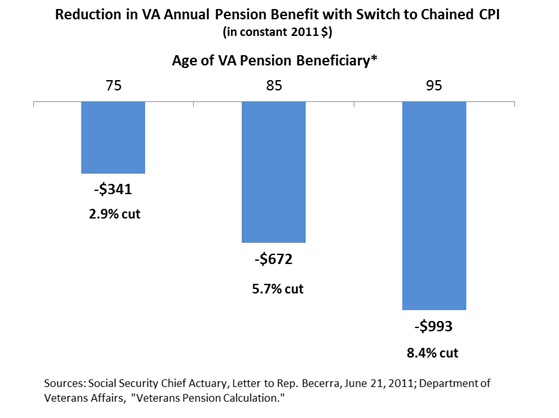 Richard Allen Smith, Vice Chairman of VoteVets.org, a progressive veterans' political action group that signed the letter opposing the chained CPI, said the group signed the letter because of the importance of Social Security and VA benefits to veterans.
"Veterans depend on Social Security and Medicare at much higher rates. As the nation's leading progressive veterans' advocacy group we thought it was important to make sure that the benefits that our constituency—veterans—depend on, were not threatened," Smith said.
Smith, a former Army Staff Sergeant, who served in the 82nd Airborne unit in Afghanistan, added that protecting these programs is even more important because, economic security is in greater jeopardy for veterans in general, and post-9/11 veterans in particular. The unemployment rate for veterans who served in Iraq, Afghanistan or both was 14.3 percent as of March 2011 (the latest date available), compared with the current national unemployment rate of 9.1 percent. Smith believes that the rates of unemployment are probably even higher among post-9/11 veterans, because many who cannot find a job they use the 21st Century GI Bill to go to college and thus are not counted as unemployed.
The chained CPI's status as a benefit cut could pose a challenge for Senator Patty Murray (D-WA), who is both chair of the Senate Veterans Affairs Committee, and co-chair of the Super Committee. As of this blogpost's submission, Senator Murray's office had not responded to request for comment.
Regardless of what the Super Committee decides, however, Smith said that VoteVets.org, which has a Political Action Committee (PAC) will make the chained CPI COLA cut an issue in ads it plans to run in the 2012 election cycle.
---
---
We welcome your comments. Please keep them civil and relevant to the post you're commenting on. We reserve the right to remove comments that are objectionable, anonymous or are otherwise in violation of our terms of use.
---

Views expressed on this page are those of the authors and not necessarily those of Campaign for America's Future or Institute for America's Future