Senators Tweedle-Dee and Tweedle-Dum Unveil Their "Brilliant" Plan to Cut Social Security
April 13, 2011 - 11:26am ET
---
Appearing on Fox News this morning, Sens. Lindsey Graham (R-SC), Rand Paul (R-KY) and Mike Lee (R-UT) acted like their plan to means-test Social Security and raise the retirement age was the most genius thing since sliced bread. But however attractive these options may at first seem, means testing and raising the retirement age are very bad policy. Click here for a comprehensive take-down of raising the retirement age, and here for a rebuttal of means-testing.

Let's start with raising the retirement age, the perennial favorite of would-be Social Security reformers. First, it is a big, across-the-board benefit cut, regardless of whether you claim benefits at 62 or 70. Raising the retirement age two years, from 67 to 69, amounts to a 13% cut in benefits, according to the SSA. (Graham, Paul and Lee And keep in mind the full retirement age is still in the process of going up to 67 from changes made in the 80s. How many people even know that the full retirement age is 67, not 65, for people born after 1960?
But not only is raising the retirement age a major benefit cut, it is also an extremely regressive cut that discriminates against low-income and minority workers, and the elderly unemployed. You see, workers in the lower half of the earnings distribution have seen few gains in life expectancy at age 65 in recent decades. Life expectancy at age 65 for women in the lower half has actually gone down. Older low- income and minority workers are also much more likely to work in physically demanding professions or suffer from health problems that prevent them from retiring later.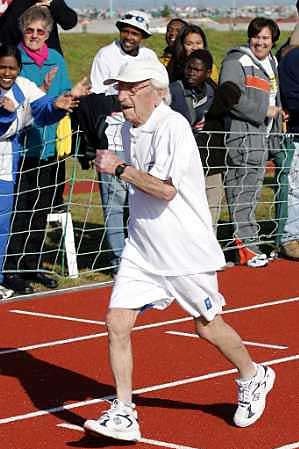 Finally, because of age discrimination and the tight labor market, the elderly unemployed have tremendous difficulty finding work once laid off. And unemployment among workers aged 55 or older is at a record-high.
So even if these folks were willing to work in their hard jobs, and suffer shorter retirements because of their lower longevity, they might not even be able to make those painful sacrifices. Instead, they'd probably be forced to collect unemployment benefits and go on the welfare rolls, which recent budget fights have shown us are by far the most vulnerable to draconian cuts. Pretty cruel, huh?
The drawbacks of means testing are a little less obvious. But when you take a closer look you realize that there are so few rich people in the country that means-testing for the rich only would save Social Security an insignificant amount of money. To get real savings you'd have to dig down to the middle class--people making in the $60,000 range.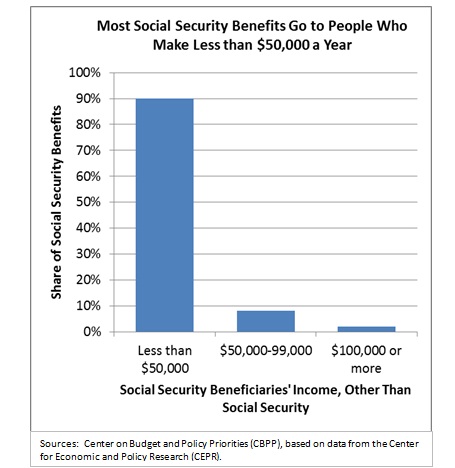 Besides, it's not like Social Security isn't already progressive. Benefits are capped at a base of $107,000, and Social Security benefits are redistributive. Cutting the rich out of the program altogether threatens to turn the most powerful people in the country against Social Security, prompting them to demand they don't pay into it either. It's an all-too-predictable slippery slope.
So don't be fooled by Sens. Graham, Paul and Lee. They're just three more Republicans who are ideologically opposed to the idea of Social Security. Graham was one of the strongest advocates of Bush's privatization scheme in 2005, and as for Paul, well, he thinks the government should basically only build roads. And I'm pretty sure Lee wants to institute Sharia law. Last part not intended to be a factual statement.
---
---
We welcome your comments. Please keep them civil and relevant to the post you're commenting on. We reserve the right to remove comments that are objectionable, anonymous or are otherwise in violation of our terms of use.
---

Views expressed on this page are those of the authors and not necessarily those of Campaign for America's Future or Institute for America's Future